The number of trade workers from younger generations is getting smaller. Many do not consider skilled trades as career options and this leaves businesses struggling to find qualified employees to fill vacant positions.
Here are steps you can take to get the next generation excited about skilled trade jobs and attract top talent:
Increase local outreach and apprenticeship opportunities

The market for the younger talent you want to hire

Show your commitment to employee development

Position trade jobs as tech jobs to attract young STEM talent
Tech-focused local outreach and apprenticeships
Gen Z's are
tech natives
, born into the era of smartphones and connected devices.
These tech-savvy students want to work, but many are not interested in the traditional four-year, college experience that often comes with a heavy price tag.
You can offer them an alternative career path that many have never considered, often because they don't realize that these jobs use tech skills they already possess.
According to the data:
12%

said they weren't interested in manual labor

40%

said it was due to poor fit

56%

said it was their lack of skills
The next generation of talent may believe they are a poor fit or lack the right skills because they're unsure how to apply their tech skills and overlapping interests to careers in trades.
The multinational manufacturing conglomerate 3M addresses these misconceptions with
multiple programs
developed for students and teachers to inspire new generations of talent.
How to take action and start building your local talent pool:
Engage with high school and community college programs and clubs
. Start with STEM-related topics to connect with students who are interested in tech skills that could be used in the trades. Work with students, teachers, and parents on expanding opportunities to include: class credit, summer programs, and paid internships.
Partner with local trade schools
. You gain early access to potential future hires, and the trade school can provide students with real-world experience.
Create tech-focused apprenticeships
. Offering an entry-level tech career option to students can show that your business is innovative and forward-thinking, appealing to today's younger applicants.
Develop robust onboarding programs.
Supportive onboarding programs can give young people with potential the skills and confidence they need to progress in a new field. Companies with solid
onboarding programs
can have a significant positive impact on a new employee's experience:
50% greater employee retention

from new hires

62% greater productivity

from the same group
Marketing for the future talent you want to hire
A survey from
Stanley Black & Decker
revealed that young people have some misconceptions that stop them from pursuing a career in the skilled trades.
23%

of students think skilled trades work with outdated technology

19%

think starting pay is less than $20,000

Only 16%

are very likely to consider a trade career, even though 85% value trade jobs
You can flip the script and increase your talent pool by ensuring your
marketing aligns
with the talent you want to attract.
Steps you can take to market toward top applicants:
Update your visual assets.
Every image you use on your website, ads, or social media can be an opportunity to tell one part of that story.
Choose images that

Avoid images that

Reflect your company's culture

Demonstrate the type of work you do

Highlight new and interesting technology

Promote an inclusive workplace

Are generic and could fit any business

Match outdated perceptions you're trying to change

Feature old or antiquated equipment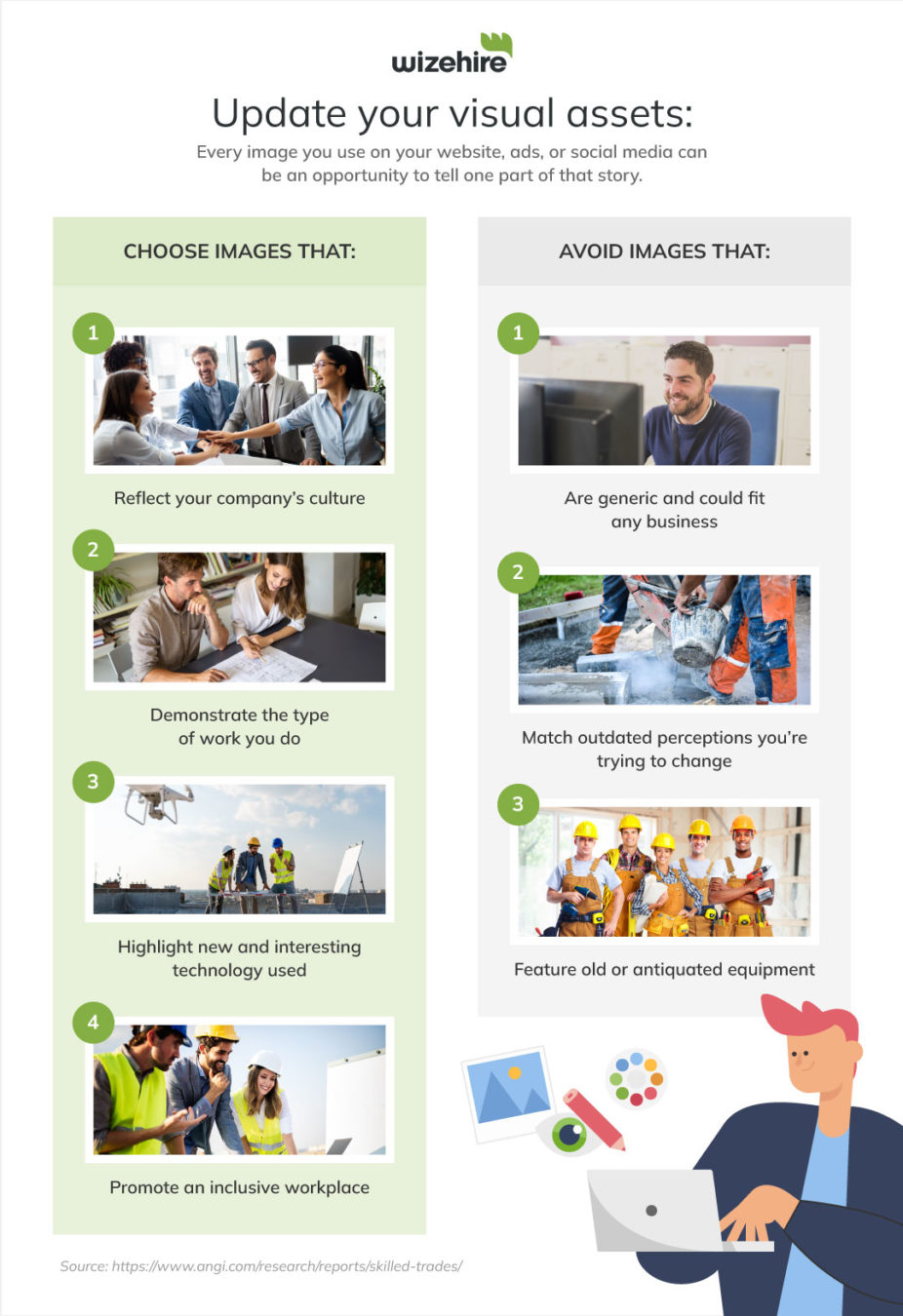 Use employee stories in your marketing.
When talented job seekers see that your employees enjoy working at your company, they are more likely to apply.
86%
of them
will use
company reviews
to decide where they should apply.
Start by sharing authentic stories that showcase your business's unique benefits to employees, how new technology is used, and what the training process entails. Whenever possible, demonstrate the importance of long-term employee success at your company

.
Share the larger impact of your work.
Young job seekers are increasingly looking for opportunities to
have a greater impact
and meaning. Your business can stand out by showing them how their work will contribute to a larger purpose.
Present your impact statement prominently on your website and social media channels, describe how your company is making a difference, and highlight any volunteer opportunities or organizations that your business supports.
Commit to employee development and career growth
Consider a new approach to hiring from within by highlighting the opportunities for career growth and development at your company. This can help you stand out among competitors and attract a
younger generation of talent
.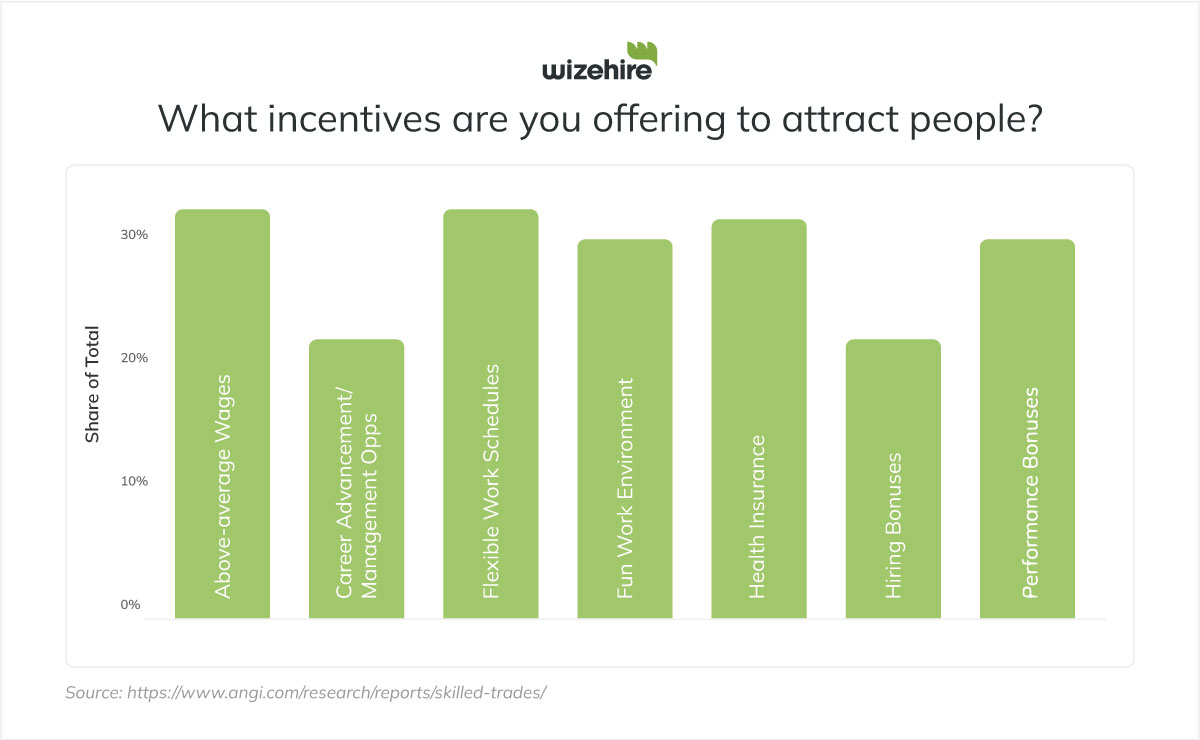 Source:
angi.com/research/reports/skilled-trades
Upskill your best people.
This analysis from
McKinsey & Company
, suggests that as industries change, training and development of your current workforce is critical to your company's success.
Consider the return on investment in programs like these:
On-the-job training
.
Hiring for potential
and training through hands-on experience is an effective way to keep or gain a competitive advantage in any job market. By reducing some of the barriers to entry, you can bring in younger applicants with less experience who are eager to learn and grow within the company.
Classroom learning
. Show a commitment to employee development and position the company as an industry leader by investing in additional education for your employees.
Many employers
are more than willing to invest in their employees who want to put in the hard work, by providing tuition reimbursement for coursework related to their job. Then, by partnering with local schools, businesses can create a list of pre-approved courses that employees can take to improve their job-related skills.
Mentorship programs
. Pairing senior-level tradespeople with those just starting out can help develop leadership skills while promoting a culture of collaboration and innovation within your business.
Showing the opportunity for growth and assistance through programs like these can inspire new hires and help
retain your most talented employees
.
Create job ads that attract top tech talent
Remember, you're competing with every other business for each applicant. Your ad needs to stand out from the rest.
Tips for writing a compelling job ad:
Think about why your ideal candidate should choose you.
Instead of simply listing the qualifications and duties of the position, take the time to paint a picture of what it would be like to work for your company.
Answer these questions:
What are their values?

What makes them happy?

What is their interest in technology?

What motivates them?
Candidates who feel a connection to your company and your values are more likely to stick around, so it's worth taking the time to get to know them.
Use job titles that highlight new technology.
Your job title should be reflective of the position itself and be something that will grab the attention of job seekers. Then, adding new technology
keywords in the job title
is a good way to signal that your company is on the cutting edge.
Write a job summary that matters to the candidate.
Describe the key responsibilities of the role, what a typical day looks like, the technology involved, and finally, how they will be compensated. In other words, give potential candidates a complete understanding of what to expect from the role.
By taking the time to craft a
well-written job summary
, you will of course increase your chances of finding a candidate who is a good fit for your business.
Keep your ad personality-focused.
Younger generations often look for a deeper sense of meaning and
purpose in their careers
. They're also looking for a company with a strong community culture and work that impacts them.
This will help you
stand out from the competition
and attract the
ideal personality type
for each position.
Emphasize transferable skills in your trade job ads.
Identify the essential non-technical skills that your ideal candidate could have developed socially, professionally, or at school.
Highlighting those
transferable skills
will attract a more diverse pool of applicants who are interested in new technology and can quickly learn new systems.
Some examples are:
Technical skills –

describe the basic competence level required

Communication skills –

verbal, listening, and/or written communication

Teamwork skills –

the ability to work effectively with others

Leadership skills –

the ability to inspire and motivate others
Have a hiring expert review your ad:
Just like any skill, nailing the perfect job ad takes practice. Also, our hiring coaches have years of experience in recruiting and can offer personalized advice on how to find the best candidates for your business.
Our expert hiring coaches:
Quality check each ad

for best-in-class structure

Provide expert advice

on job ad placement and best practices

Give job ad optimization

tips for top job-board visibility
—
Ready to grow your business with the next generation of talent? Wizehire can help.
Book a hiring strategy session today.