How effective is your ISA onboarding process? The inside sales agent, or ISA, is an integral part of the real estate industry. They're the ones "dialing for dollars" and quickly generating leads, making them a basic part of your company's revenue generation process. If you want your
ISAs
to do their best work on your real estate team, you've got to provide a strong foundation for their performance through onboarding. We'll walk you through
how to set goals and provide hands-on training sessions to your new ISA, so they are prepared and excited to succeed in their role.
And though we'll highlight ISA-specific examples, these onboarding principles could be applied to support any type of employee. Let's dive in!
Aligning with your new employees' goals
Goal-alignment, the first step in onboarding your ISA, begins before you've even made an offer. Throughout your recruitment process, candidates are reviewing your
job description
and asking probing questions to figure out whether they're a good fit for your company and the position. Likewise, you might ask candidates in interviews about their career path and how your company might help them achieve their goals. Once you've made an offer, it's important to continue discussing goals with your new sales team member on a regular basis. Confirm what the ISA's short-term and long-term goals are for their career and find ways to help them meet those goals. This type of alignment is a surefire way to keep your employees happy, productive, and loyal over the long-term. By identifying your employees' goals and helping them build a plan to achieve those goals, you turn your employees into advocates for you and the company. What types of goals might an ISA share? Here's a typical career path scenario from Dale Archdekin, founder of
Smart Inside Sales
.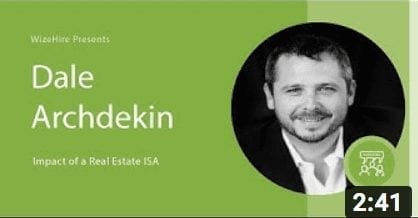 For example, ISAs may prefer to make warmer referral calls before cold calls, but cold calls are an important part of the job. If you can show the ISA exactly how those cold calls are going to help them achieve key metrics which feed their most cherished goals, they'll be a lot more diligent and even enthusiastic about making those calls. Before you meet with an employee to discuss their goals and career plans, it's important to have some questions ready that will help you uncover the information you need. Open-ended questions tend to draw out more information than yes-or-no questions, so use those as much as possible. Useful questions might include:
What matters most to you?
What do you like most about your job?
What do you want to change about your job?
What do you want to be doing a year from now? Five years from now?
What do you want to do with your life?
How can I help you get where you want to go?
Give your employees plenty of time to speak their mind, and try to set up a meeting environment that will make them feel as comfortable as possible. For example, instead of sitting behind a desk while the employee sits in a chair in front of you, sit down on the same side of a table so that you're on an equal footing. Feeling welcome and at ease, your new ISA will be willing to share their goals and honest opinions about the position.
The onboarding process
Once you've aligned on goals with your ISA, the hands-on training process can begin. Erik Hatch, industry expert and host of the
Real Estate ISA Radio
podcast, recommends a three-step ISA training for onboarding ISAs.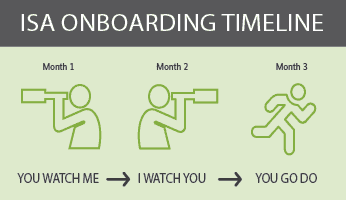 Month 1: You watch me.
In this step, the new ISA shadows an experienced ISA (or whichever team member has been handling lead generation) and observes how they handle inbound and outbound leads. Motivate your new ISAs to focus and absorb how each lead nurturing task is done by setting clear expectations:
Schedule a date to quiz the new ISA on the knowledge that they've learned from shadowing.
Ask your new ISA to act in a role-playing situation where they have to perform the most basic parts of the position, such as cold calling.
Month 2: I watch you.
During this stage, it's the experienced ISA's turn to shadow the trainee and observe them at work. This phase gives the new ISA team member a chance to practice the skills and techniques they just learned, attempt to set some listing appointments and get immediate feedback. Help your ISA solidify and strengthen their skills by giving them challenging new leads, such as outbound ones. They'll have the support of your experienced team member and the experience will help them develop the grit they need to improve their conversion rates and generate decent results.
Month 3: You go do.
In the final stage of onboarding, the trainee moves fully into their new position and starts working with incoming leads on their own. An experienced cold caller or ISA should still be around to answer questions, offer guidance, and lead role-plays, but the new ISA now gets to handle calls on their own. Once the new ISA is doing their job generating qualified appointments with little need for guidance and is hitting their goals, the onboarding process is complete.
Transitioning from training to mentoring
After goal-setting and training your new ISA, they'll be ready to set appointments on their own and hit the ground running while they generate leads for your real estate business. Beyond the new hire's first few months, keep helping them grow both personally and professionally with regular meetings. Check in regularly to provide your employees with training opportunities, understand their goals, and help them achieve these objectives. Your support will not only make your ISA feel appreciated, but also will motivate them to rapidly generate real estate leads.