2 Shortcuts To Hiring Talented Buyer's Agents
Need a buyer's agent for your real estate team right away? You can speed up hiring by looking for sales talent outside the real estate industry. If you're in a crunch to find a buyer's agent, we recommend looking for an inside sales agent or an outside sales professional.
Opening your search to raw sales talent allows you to find candidates quickly because it expands your applicant pool. A quick look at Indeed.com data shows:
58,768 resumes that reference "Inside Sales"
31,880 containing "Outside Sales"
And only 20,633 resumes that contain "Real Estate Sales"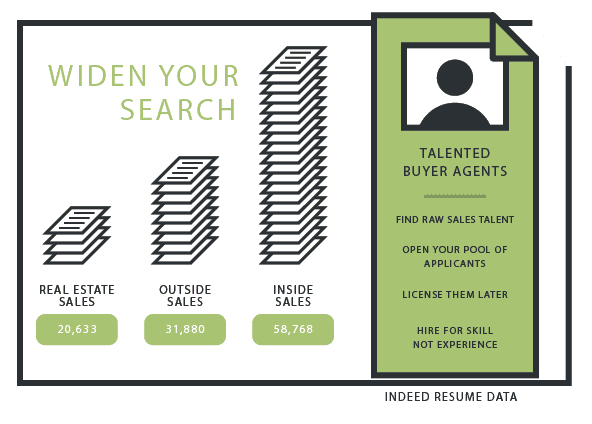 It's a fact: more people respond to ads containing Outside Sales and Inside Sales simply because it's terminology already in their resume. Yes, you'll sacrifice a license to start, but a skilled sales candidate can learn your systems and work on getting their license shortly after joining.
Let's examine more of the benefits of expanding your applicant pool.
Consider an Inside Sales Agent
One of the reasons you're super busy is probably your kick-ass ISA. It's time to take a serious look at the talent right in front of you. Here are some of the reasons you should think about promoting an ISA:
ISA's love connecting with people; that's why they excel at inside sales.
A talented ISA is already in a "hunter" role—they already know how to prospect and qualify new leads.
ISAs don't typically need a license to get started, and can work on getting it while bringing in leads.
The DISC of a successful ISA is closely aligned with yours; a little more D and they're just about there.
They know your systems and you know they align with your company culture
How do you know if they're ready to make the leap? Schedule some time and have them shadow you for a couple of hours. Show them the ropes and talk about the benefits of a less structured work day and the more aggressive compensation splits.
If they show some interest, encourage them to get licensed if they aren't already. This can make their transition into a successful real estate agent that much faster and easier.
Not sure how to craft your job description? Here a template to get started.
Consider an Outside Sales Professional
An outside sales professional (OSP) is a more consultative role than an ISA. This position meets with qualified leads to understand their buying and selling needs and then helps those clients move through the sales pipeline. Responsibilities might include finding properties for buyers to explore or holding open houses for sellers.
An outside sales professional will already be good at sales. The only extra training they'll need may be introducing them to the sales style that best suits your company.
They prefer a role where rewards are tied directly to performance, like lots of freedom and naturally like to be in charge of the sale. Given their experience, an outside sales professional is generally able to get a license without much difficulty.
Considering hiring an OSP? Check out this job description template to get started with your ad.
WizeHire Pro Tip: Use a personality profile like DISC to easily identify which sales professionals have optimal qualities for becoming a buyer's agent in the future.
Before you place your ad for a "Licensed Buyer's Agent" be sure you're considering all of the avenues for sales talent and working with the largest pool of applicants possible. It's a better long-term investment if you hire talent, train them up and have them ready when spring busy season comes around.
Ready to hire a BA?