The automotive industry is one of the top sectors facing a talent crisis. In April, it was reported that the number of job vacancies in the automotive sector had risen by 40% in the first three months of 2022, reaching a five-year high.
They project that the situation will not get easier anytime soon. Experts predict a global shortage of 2.3 million skilled workers in the automotive sector by 2025 and 4.3 million by 2030.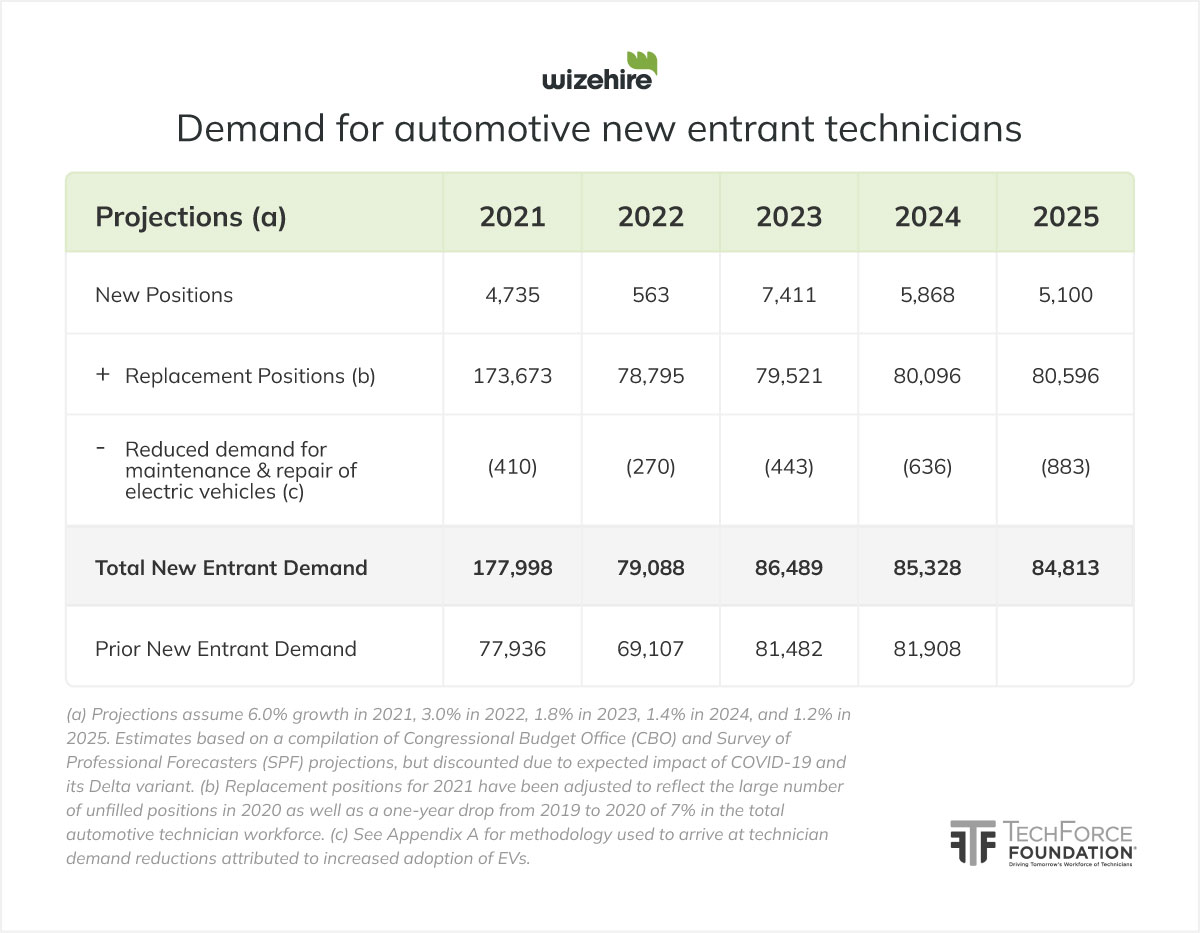 At Wizehire, it's our mission to make finding skilled talent easier for you. At a time when hiring is harder than ever, we're here to help you with the tools, resources, and advice you need to keep your head above water in the weeks and months ahead.
Here's what we'll cover:
The most pressing hiring challenges facing the auto industry
How successful dealerships are finding and keeping skilled talent
Steps to take to find skilled talent for your business
High turnover is costing your dealership more than you think
Across the country, car dealerships are struggling to keep up with demand as they operate with a shrinking staff. 43% of service advisor positions turned over in 2021 and 79% of auto techs have considered leaving the industry altogether.
Why so much turnover? Reports point to less than optimal payment plans, employee burnout, and lack of management support. Learn how to retain the automotive talent you already have.
💡 What is high turnover costing you? Losing one tech can cost a typical dealership $172,000 when considering lost production, lost revenue and the price of finding a replacement.
Supply chain issues create high demand for service techs
A December 2021 CDK survey of dealership owners and managers found that their most critical hiring need was also the hardest job to fill: service technician.
According to the National Automobile Dealers Association (NADA), auto dealerships could use 37,000 more techs than are available to work.
Why the overwhelming demand? People are opting to get their cars serviced than buying new ones. This is due to the high cost and low supply of new vehicles. In summary, this means that companies need to hire more skilled techs to work on older cars and meet the higher demand for maintenance without increasing the number of workers.
💡Hire faster with a job ad made to attract skilled service techs. Almost 300 managers have been hired successfully with this automotive technician job template on WizeHire.
There's a lack of interest in trade careers among younger workers
Local business owner, Bill Griffin, the co-owner of Griffin's Neighborhood Auto Clinic in Farmington Hills, MI stated:
"We had a generation not going into trade careers, and I think that's really catching up with us now. "I…hope we can reach out more to high school students to explore trade careers. They are often well paying and very stable."
How you can attract younger workers to the auto industry:
Don't go it alone: Hire top automotive talent with job experts by your side
In the face of a multitude of industry challenges, it can be stressful to think about making your next hire. That's why Wizehire has hiring coaches that provide you with the tools, resources, and advice you need every step of the way.