In business, you are who you hire.
You can be stuck hiring C players, and you will always lose to the competition. Or, hire B players, and you might do okay, but you will never break out. Then there's hiring A Players, and life gets very interesting no matter what you are pursuing.
Borrowed loosely from Geoff Smart and Randy Street's- Who: The A Method for Hiring
Writing a job ad can be intimidating even if you're a trained recruiter. It's hard to know whether you're including the right information to attract the best candidates even if you have a ton of experience in hiring top talent.
Coveted A Player employees all come from the same origin: a carefully crafted job ad. With clear role descriptions that outline expectations, effective job postings empower ideal candidates to quickly assess whether they're up for the position.
Before we jump in, let's talk about the difference between a job description and a job ad. Here are some important distinctions between the two: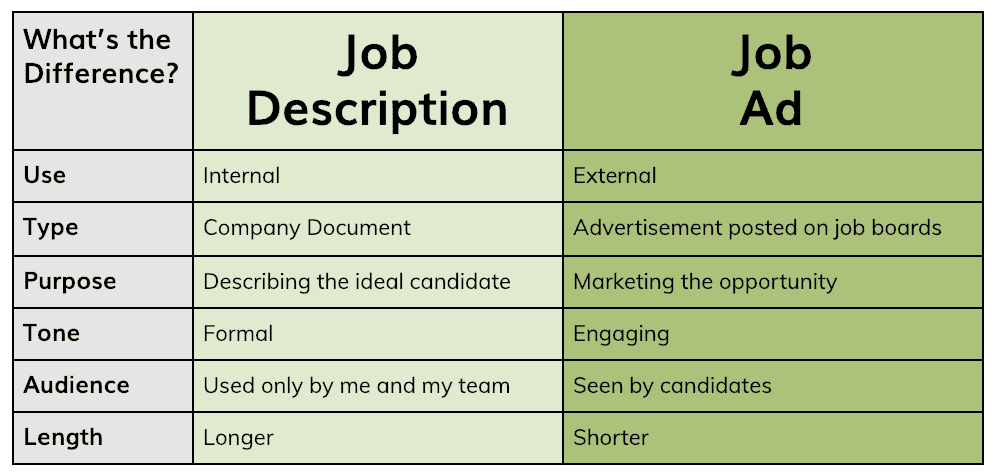 A job description is an internal document to be used inside your organization. From this foundation, you will build your public-facing job ad. A job ad is used for advertising. It's basically posted publicly on job boards and your website's careers page.
To summarize, a job description is a company document describing the ideal candidate internally to your team and a job ad is externally marketing the position to candidates. Now that you know what we're working on, let's get started on your job ad.
Writing a good job ad is a skill that can be easily learned. Once you understand the formula of a job ad, you'll be able to write one in minutes. You know your business, so you already understand the high-level objectives of every role. All you have to do is write out your ideas, and your job ad can attract top candidates. Because you want to attract the right people who will grow your company's value and help you meet your company goals.
How to write a job ad
When you write a job ad, it's very formulaic. Terminology for each section may differ, but they're all referring to the same core components. So, here are the 7 components you need.
Job Title:

Define who you need to join your team and then assign them a job title that will entice them to want to work with you.

Job Location:

The office location and job location are slightly different. A job location correlates to your candidate pool. Larger cities have a larger pool of talent.

Job Summary:

Create a brief summary of the role's core objectives and sell the benefits of working for your team.

Responsibilities:

Put together a list of the role's tasks and purpose.

Qualifications:

Outline the skills and requirements needed for this role.

Compensation:

Determine how much you will be paying them.

Company Description:

Summarize your company's mission and the benefits you provide to sell a candidate.
We will cover how to write each section and the importance of making them role-specific. We'll prompt you with the right questions to collect your ideas and later show you how it comes together in a job ad sample. With this guidance, you'll be ready to quickly craft a high-quality job advertisement that attracts the best candidates.
Job Title
Firstly, we'll begin by naming the position to help sell the position. It's important to brainstorm job titles that your ideal candidates would want to search on Google or other job boards when seeking a new job. The position title you use in your job ad may not match what's in your organizational chart or in your job summary, but you can easily explain that during an interview. Focusing on buzz keywords for your job ad will get the right people applying.
Job Location
Secondly, be specific about where the person will be physically working. The job boards prefer City, State. There will be a difference in the number of candidates attracted to different locations. For example, you might actually get more candidates by using the location 'Los Angeles County' instead of 'Silicon Valley'. When in doubt, check your job board of choice by searching for similar job titles using your desired location. Searching by an entire state or country will not yield the best results, so try to get specific, but broad enough that you don't limit your candidate pool. Applicants will investigate you online during their application process. Identifying in your ad where you expect them to work will gain you more quality candidates. If you are seeking someone remote, use 'Work From Home' or 'Remote', but keep in mind that you might get a large number of unqualified job applications.
Job Summary
Thirdly, candidates need a brief overview of the position to understand what success could look like in this role. To immediately grab the attention of high-quality candidates, your job summary should be quick, accurate and exciting. Give potential candidates an introduction to your company, and your expectations for the role and build their excitement about joining your team.
To help you write a job summary, you must ask yourself these questions:
What makes your company special?

Think like a marketer and market your company culture. Include facts about the benefits of working for your team. Create a compelling statement about the position highlighting the unique advantages candidates will experience by working for you to attract the right candidates to apply.

What makes the role enticing?

Try to think why the role is special and entice the candidate with 1-2 major tasks that encompass the majority of the role's duties. In any event, remember you are trying to attract someone who loves to do these tasks. Make it compelling!

What is the main purpose of the role?

Stick to one goal to keep it brief. In addition, for many jobs, a high-priority purpose can be qualitative, yet still meaningful like "providing a top-notch customer experience".
Once you've answered these questions, it's simple to write your job summary—with concise and inspiring language, you can quickly engage and excite the A+ candidate with your job summary.
Inside Sales Agent Job Summary Example
We are a dynamic and rapidly growing real estate team that is experiencing explosive growth. This growth has catapulted us into becoming one of the top real estate teams in the area. If selected you'd join a highly responsible, relationally focused team of real estate professionals who strive to dramatically enrich the lives of those around us through real estate.
Having fun is an essential component of this job. Building relationships built on trust and mutual respect, and treating our team members like family. We are seeking an individual who can plan and achieve prospecting and sales targets while providing a first-class experience to all customers that enhances the company brand. We need someone who can pre-qualify buyers, understand the needs of sellers and negotiate sales to an effective close.
Responsibilities
Fourthly, After captivating candidates with the job summary, you want to give them a full picture of what the job entails. With a comprehensive understanding of role expectations, candidates can determine whether they could succeed in the position.
This section is basically an expanded version of the job n, but in bullet point form. Rather than condensing the job to a few sentences. Identify each task needed to accomplish a purpose. It's a simple cause-and-effect formula. You're listing all of the role tasks and purposes to give candidates a complete view of the position. By the end of this section, candidates should have a clear idea of what a typical day on the job might look like—and whether they'd be a good fit.
To help you write the job responsibilities, you must ask yourself these questions:
What tasks need to be accomplished?

Think about past successful candidates in this position and review what a typical week looks like for them. List out all of the tasks that are unique and essential to that role.

What is the purpose of each task?

Include a mixture of measurable and abstract goals. For example, the goals for a paralegal position might include a minimum error rate in spelling and grammar along with the more abstract goal of providing courteous service to clients.
Once you've defined all of the task and purpose statements for this role, writing this section is just pairing those dedicated tasks with their purpose. List the task and its purpose by priority so candidates quickly know what they value most in this position. Strive for 5-7 task and purpose statements and keep them brief. If your list feels repetitive, try grouping similar statements together to keep it more concise.
By outlining your expectations crystal clear for candidates, you're weeding out people who aren't a good fit while attracting the best candidates. These top applicants will feel excited about what a typical day looks like in this role and be motivated to continue reading.
Inside Sales Agent Responsibilities Example
Prospect for and engage with clients

[task]

to build and manage a pipeline of future clients

[purpose]

Follow scripts and plan

[task]

to achieve productivity, appointment setting and revenue targets

[purpose]

Cold calling and responding efficiently to customer inquiries

[task]

to achieve improved customer satisfaction ratings

[purpose]

Outbound calling, e-mail communication, coordination

[task]

to schedule appointments

[purpose]

Accurately qualify potential customers and track metrics

[task]

to ensure weekly goal attainment

[purpose]
Participate in regular training and education requirements [task]

to continuously improve skills

[purpose]
Qualifications
At the end of the day, jobs are skill-based. However, to get the job done, candidates need certain concrete qualifications or the ability to learn them quickly. After that, convey the necessary credentials for a position in your qualifications section. Choose 5 – 7 qualifications for the position.
If you don't have a clear sense of the necessary credentials for this role, basically take a moment to brainstorm.
To help you write the job qualifications, you must ask yourself these questions:
What are the skills necessary for this position?

To ensure you are attracting the right candidates with the necessary previous experience to do the job well, think about what you could test them on during your application process and/or uncover during interviews. You can easily determine cold-calling experience and licensing status on their resume. You can test their lead qualification, rapport building, and objection handling ability during a role-play interview.

What do I want qualified candidates to already have or know when they apply?

When potential employees are reading your job ad, you want them to understand the overall skills you're looking for so they know if they have what it takes to meet your needs and it makes sense for them to apply.

What core values should your candidates possess?

It's not just that they are able to do the job, but it's

how

they do the job. Undoubtedly, one bad apple can spoil the whole bunch. Even though someone might be "qualified", there could be someone who would be a better cultural fit to join your team.
As you write this section, keep in mind the value of transferable skills. Applicants with database experience in a different software than you currently use could still have the skills needed to do the job. Widen your applicant pool by keeping your qualifications broad. There are great candidates out there who may need just a little training on your in-house programs to ramp into production quickly.
How someone does their job is also important. Be sure to include some of the qualities you value in your entire team to ensure they'll fit into your company culture.
For example, if one of your core values is "Teamwork", you'll want to look for individuals who mention collaboration and sharing credit in their interviews. A salesperson who meets quota but is negative toward other members of the team, might not be the best fit. That kind of negativity will impact your whole organization.
Here are some other core values you could include:
High standards: Expects personal performance and team performance to be nothing short of the best.
Honesty/Integrity: Does not cut corners ethically. Earns trust and maintains confidence. Does what is right, not just what is politically expedient. Speaks plainly and truthfully.
Teamwork: Reaches out to peers and cooperates with supervisors to establish an overall collaborative working relationship.
Work ethic: Possesses a strong willingness to work hard and sometimes long hours to get the job done.
When core values are noted in your job ad, it's easy for an interviewer to connect a behavioral question to them. "Talk to me about an accomplishment in one of your past jobs." When they answer, watch to see if they mention some of the values you're looking for.
Qualifications can include more than your must-have requirements. If there are some "nice-to-have" credentials, list them as optional skills. You'll motivate top candidates with those extra strengths to apply—they'll know that they're bringing something valuable to the table, and you'll have a stronger applicant pool to work with.
Being upfront and transparent about required position skills and attitude sets you up for hiring success. Lastly, applicants will know immediately whether they should apply based on their credentials, and you'll have a healthy batch of even more qualified applicants.
Inside Sales Agent Qualifications Example
1-2 years of experience in cold calling

Real Estate License

Customer/client database and calendar management

Lead qualification (BANT)

Rapport building, active listening, and objection handling

Clear communication skills

Helpful: Inclined to assist others when possible.

Passionate: Intense enthusiasm towards interest or activity.

Proactive: Acts without being told what to do. Brings new ideas to the team.
Compensation
Share the upside potential for the position with your compensation. Additionally, the second filter applicants use when searching for jobs online is how much they want to make annually. Because what is the most attractive salary a top performer can expect to make? If it is a commission-based position or there is a bonus structure, include language like '$XX,XXX at-plan commission' or '$XX,XXX includes base + bonus'.
You can also use a salary range if you feel more comfortable, but keep that range at a 20K difference at maximum. Because any more than that you risk being seen as unrealistic by job-seekers. Do some research online to determine the average salaries being listed in your area and aim to come in slightly higher. Finally, you get what you pay for. Because low-balling compensation will result in lower-quality applicants.
Inside Sales Agent Compensation Examples
$60,000 includes base + bonus

$60,000 at-plan commission

$50,000-$60,000
Company Description
The company description is more than just describing your company and what your business does. Moreover, you need to show a candidate why they should want to work for you versus your competitor. Look to your Mission, Vision, and Values for further inspiration. It's also a good idea to include an overview of the benefits you provide to all of your team members. Likewise, the company description is where you should 'sell' your workplace to prospective employees.
Company Description Example
About iHeart Real Estate
Our entire team is vested in all our customers' buying or selling experiences. Our team members each play a specific role in making every transaction successful. We work together to ensure customers receive superb service and optimal results. Customers are the focus of our team. It is this team structure that has led to amazing results over the years.
We care about our team! All our employees have access to:
Medical and Dental Coverage

Life Insurance

Paid Time Off

401K

Regular team-building exercises

Formal recognition events

Quarterly family socials

Weekly and monthly incentives
This helps us provide all of our team members the ability to build careers worth having, lives worth living, experiences worth giving, and legacies worth leaving.
Putting It All Together
Curious about how each section comes together in a job ad? Here's an entire posting to show you each component.
Each section can be filled in with the prompts from this guide. Here's a checklist to remember all of the questions and tips.
Job Title

Question to ask: Who are you looking to hire?

Tip: Make it easily searchable.

Job Location

Question to ask: Where will they work?

Tip: Be specific.

Job Summary

Questions to ask: What are the role's primary objectives? Why should they want to work for you?

Tip: Hit the high notes with key benefits, goals, and enticing tasks.

Responsibilities

Question to ask: What are the role's tasks? What is the purpose of each task?

Tip: Choose 5-7 tasks/purpose statements.

Qualifications

Question to ask: What do good candidates need to have/know?

Tip: Make your list of requirements measurable in either a resume, test or interview.

Compensation

Question to ask: How much will you be paying?

Tip: Show the upside potential.

Company Description

Question to ask: Why should they work for you, not your competitor?

Tip: Use your mission, vision, and values to outline a list of benefits to selling your company.
This brainstorming drives your job ad writing. Once you flesh out your ideas, you only need to fill in each section to attract the best candidates.
Define Your Expectations to Successfully Hire
The success of your business depends on your team—their personal qualities, skills, and more. In short, carefully crafting your job ad allows you to set clear expectations and attract the exact candidates you need to meet your unique company goals.
In summary, write a job ad that has the ideal role requirements in mind. Once you have that criterion determined, writing a job ad is simple. Just plug your criteria into the job ad formula as laid out in this guide, and your work is done. Finally, with well thought out content, your job listing on job boards like Indeed, ZipRecruiter, and LinkedIn will attract by and large the best prospective candidates for your business.
If you have a job ad that you'd like to post,
here's how to get started
.