In the crowded job market, small businesses can find themselves at a
disadvantage
.
Low estimates put the average
cost of a new hire
at
$4,129 and the process can take months
.
For businesses looking for an efficient and cost-effective way to fill their talent pipeline in this
tough hiring climate
,
employee referral programs offer an ideal solution with proven results:
increased candidate quality, lower recruitment costs, shorter time-to-hire, and improved retention rates.
Benefits of an employee referral program for your business
Reduce your time to hire.
One of the biggest advantages of using employee referrals is the reduced time needed to hire new employees.
Companies that utilize employee referrals average a quicker
29-day recruitment process
compared with traditional methods, which often stretch out to 55 days.
Cut recruiting costs.
Employee referral programs are an economical way to fill job positions, cutting out costly recruitment fees and ensuring that you find top-notch talent. On average, referral programs
save $1,000 per hire
.
Create an engaged workforce.
Create a sense of community within the organization which can positively impact team morale and collaboration. This culture helps attract top talent because potential new hires know they would be immersed in a positive environment.
Increase employee retention.
Referrals prove reliable when seeking long-term employees;
nearly half stay in their positions
for four or more years, while only a quarter of job board hires remain employed beyond two.
Higher quality candidates.
Indeed's survey
found that
75%
of referred candidates
were extremely qualified.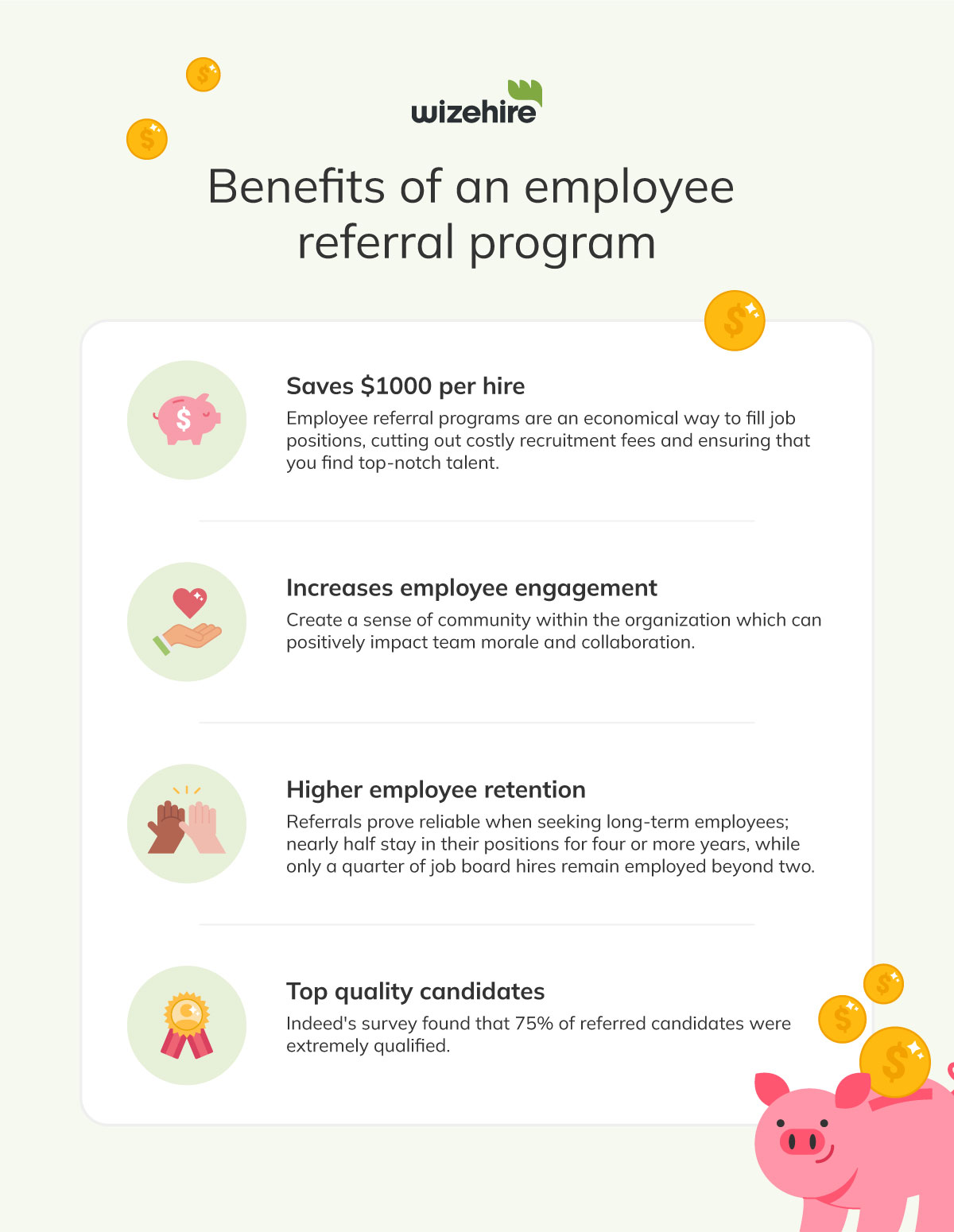 Referrals are often the most qualified candidates because your employees know:
What type of candidate will be successful in the role

The skills required to perform the job well

The company culture and

what personality traits fit
Word-of-mouth referrals create a positive impression of your business among potential job seekers and lead to increased visibility among target audiences.
This gives your business more exposure while providing a platform to reach out directly to potential candidates who could fill hard-to-fill roles quickly and effectively.
How to build a strong employee referral program
Your employee referral program should be simple and easy to use while distinctly outlining the criteria for successful referrals. This approach will ensure that only qualified candidates are referred.
Potential criteria could include:
Qualifications such as college degrees or certifications

Prior industry knowledge

Skills relevant to the open position

A minimum level of experience
Steps to building your employee referral program
A good employee referral program should be designed with your company's goals in mind and should include a strong incentive system so that employees will actively participate in the program.
Here are some tips on how to get started.
1) Define your goals:
What do you want from your referral program: What types of roles do you want to be part of the referral program? Who should be making these referrals? What
personality types
are you looking for? What kind of rewards do you plan on offering?
Setting goals before launching your employee referral program will give you a strong starting point and set clear expectations for everyone involved.
2) Create an incentive structure:
Offer attractive incentives that motivate employees to refer qualified candidates.
Consider rewards such as cash bonuses or other benefits like gift cards or event tickets — whatever makes sense for your budget and company culture! Make sure they're clearly outlined, so there are no surprises regarding payouts.
3) Promote it internally:
Once you've established your incentive structure, promote your employee referral program with emails, posters around the office space, and in company meetings so everyone knows about it! You can even consider mentioning it in the
job offer letter
.
4) Measure success regularly:
Track metrics such as the number of applicants per role, total number of hires resulting from referrals vs other sources, and cost savings associated with hiring through referrals versus traditional methods (e.g., job postings).
Analyzing data regularly can help inform decisions about which aspects of the program need improvement or adjustment over time to optimize its effectiveness.
By creating a plan, communicating effectively, monitoring progress, and tracking results you can create an effective employee referral program tailored specifically around achieving success within each department or team at your business!
What you need to know about employee referral bonuses
How companies pay referral bonuses
Companies pay employee referral bonuses in various ways, depending on budget and the position being filled.
The most common method is cash payments
, with
71% of companies
saying cash bonuses are the most effective.
In addition to cash payments, other options include incentives such as gift cards or additional paid time off.
Consider all your options before selecting a bonus type to maximize the return on investment while providing an incentive that motivates your team.
Calculating referral bonuses
When calculating referral bonuses, it's important to consider the cost of recruiting new talent and the value of having a strong network of referrals among existing staff members.
Companies should also consider how much they normally spend on recruitment fees, advertising, and other associated expenses when finding new hires. This can help determine an appropriate amount for their employee referral bonuses.
How to manage a successful employee referral program
Ensure your referral program succeeds with easy-to-understand guidelines for employee participation and active promotion from your leadership.
Set clear employee referral program guidelines
Create clear guidelines outlining what is expected from both employees and managers.
Your guidelines should include:
Eligibility rules

Timeframes

Processes for submitting referrals

Compensation details
How to promote a referral program
Introduce the program during team meetings and send emails highlighting key points such as eligibility requirements or rewards for successful referrals.
Program marketing
ideas:
Posting information around the office or on your online platforms

Provide consistent updates on the progress of the referral program

Quarterly raffles where winning referrers might receive prizes

Employees can be thanked through newsletters and social media
No matter how you choose to promote your referral program, make sure that everyone knows about it and understands its importance!
Employee referral program automation software
Employee referral software makes it easier to maximize recruitment efforts and automate important processes.
Key features include:
Post company-branded job opportunities on social networking sites

Send notifications about new job openings to employees

Add fun and engagement with rewards or points-based programs

Track the status of referrals – including those that have been successful

Manage referrer payouts with ease.
Check out
LinkedIn's best employee referral programs
to streamline referrals with automated workflows.
Employee referral programs are an important way to find great staff for small businesses. But it's not always easy to manage and coordinate such a program.
Fortunately, WizeHire makes the process simpler and more effective with
its easy-to-use software that helps identify quality candidates.
Using WizeHire's innovative technology, you can quickly assess a candidate's personality fit and motivators using a simple slider graph that displays ideal personality fit scores.
Easily manage your applicants, including employee referrals, and make sure you find top talent fast. See our
pricing page to learn more
and start hiring with WizeHire.