We all know Value Propositions are important in effective marketing and selling. Did you know they're also incredibly valuable in recruiting and hiring? We'll help you create an Employer Value Proposition that 'sells' candidates on why they should want to work for you. A value proposition is defined as 'an innovation, service, or feature intended to make a company or product attractive to customers.' A Value Proposition is most compelling when it is written with the needs of the customer in mind. Knowing what motivates customers to buy and weaving that into every message you send and ad you write is what makes a Value Proposition sing. Using the same basic concept, you can create an
Employer
Value Proposition or EVP to entice candidates to work for you. By knowing what motivates the candidates you are looking to hire, you can craft a statement that resonates with them. This is how you attract them to your culture. Using these statements in your hiring messaging and job ads nets you more quality candidates. A powerful Employer Value Proposition helps you stand out from the crowd of companies like yours trying to get attention from the same pool of applicants.
An EVP helps you 'sell' your workplace to candidates.
Let's get to work on your enticing EVP.
Step 1: Determine the role you're hiring for.
An Employer Value Proposition should change with each role since candidates' motivators differ. For example, what motivates
salespeople
is very different than what motivates those in back office support.
Salespeople
are motivated by a high earning potential and having
administrative
help that will keep them out selling. Those being hired into support positions like customer service and administrative are more attracted by a steady income and useful technology.
Ask individuals currently in the role what they love about their jobs. Just 3 quick bullet points will get you what you need.
Hiring
for a role for the first time and have no one on your staff to ask? Reach out to industry professionals or online forums. (Or,
ask WizeHire
! We know the motivators for many types of roles.)
Step 3: Create a short statement that addresses each motivator.
Here's a statement that would attract
sales professionals
motivated by high earning potential. 'If you work hard, you can hit six figures.'
Administrative assistants
would prefer to see something about stability and process. 'We invest in industry-leading software and technology that makes your job easier and customers happier.'
Step 4: Determine proof points that back you up.
Motivating statements are great, but you need to back them up. Prove to candidates that your company outshines your competitors. Your goal is to share enough information to attract as many applicants as possible so you can screen for the perfect hire. Here's how we put an
EVP
together for a Real Estate Sales Agent.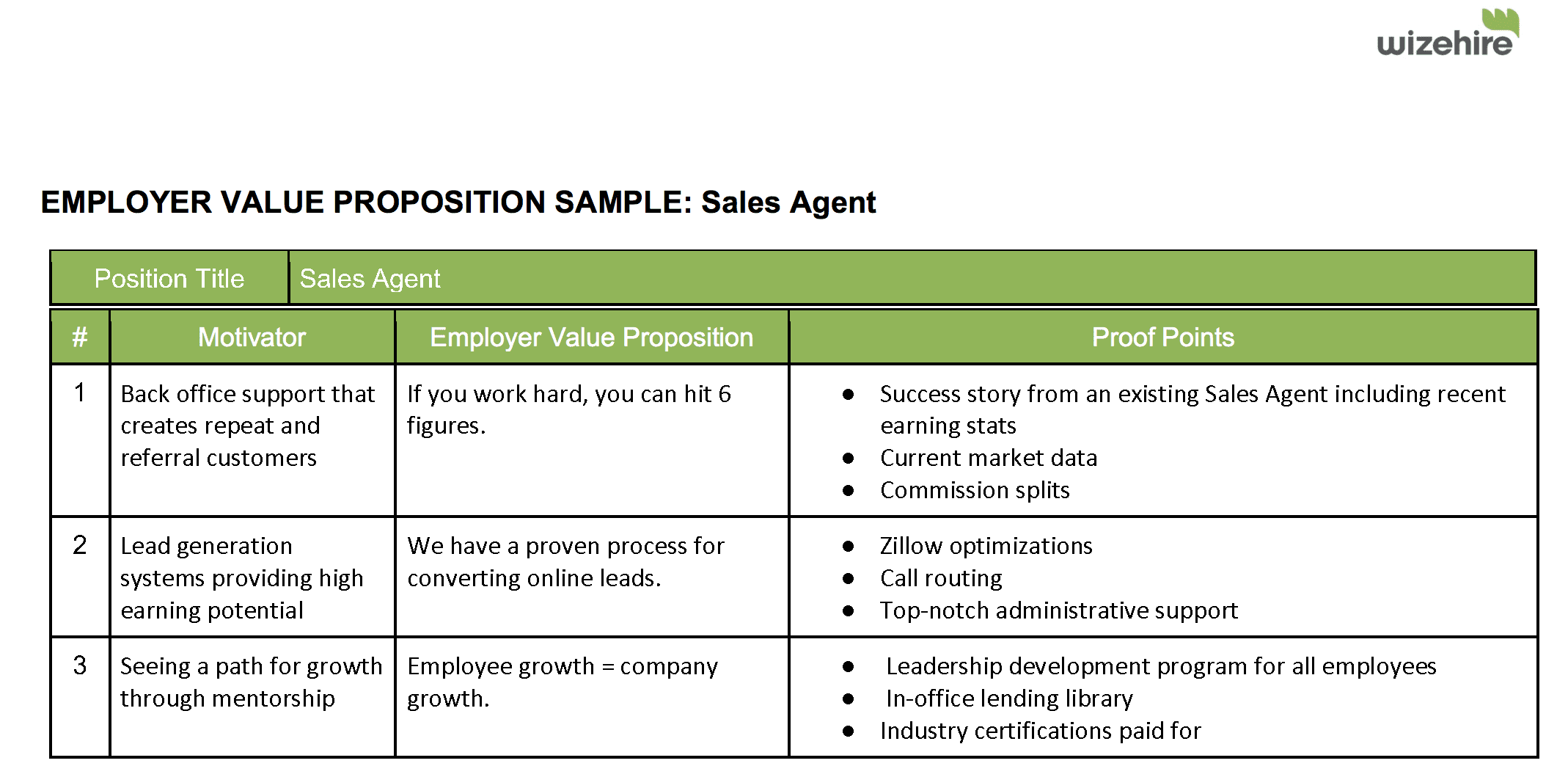 Once created, you can use your EVP in your job ads, like so…
Job Summary: Our team of successful Real Estate Sales Agents work hard and hit six figures regularly! Starving for leads? We have a proven process for converting online leads and back office support designed to keep you selling! We also invest in the growth of our agents and staff by offering Leadership Development at all levels and paying all industry certifications. Interested? Apply now!
Don't stop at job ads! The proof points in your Employer Value Proposition should be woven throughout your Careers page on your website.