Franchises offer a proven business model, established brand recognition, and support from the franchisor. However, franchise owners also rely heavily on their local employees at each location to maintain their success. In order to attract and retain top-notch employees, many franchises are now advertising a career path from entry-level employee all the way to franchise owner.
As more and more businesses shift towards a franchise model, there is a growing demand for skilled professionals who can manage and operate their locations. This presents a unique opportunity for franchises to create a clear career path for their employees, from hourly positions to management roles and beyond. This approach can help franchisees retain top talent and foster a culture of growth and development.
The challenges of entry-level hiring for franchised businesses
Franchised businesses face unique challenges when it comes to hiring. One of the biggest obstacles is maintaining consistent hiring practices across multiple locations.
Other hiring challenges include:
Different locations may use different hiring criteria or processes, which can lead to inconsistencies in the quality of new hires.
High turnover rates can be costly for the franchisee or management company, requiring a constant investment in recruiting and training new employees.
Local labor laws and regulations can vary from state to state and even city to city.
Career pathing is one of several strategies franchises, and other multi-location businesses, are using to attract hard-working candidates and replicate a successful process across all of their locations.
Career pathing as a recruitment trend
Scoping out a career path from entry-level employment up through the ranks, or career pathing, is a growing trend in hourly recruitment. The idea of career pathing is not new, but it is becoming increasingly important for businesses to offer clear opportunities for growth and advancement to their employees. According to LinkedIn's 2023 Workplace Learning Report, The #1 way organizations are working to improve retention is by "providing learning opportunities."
By offering a clear path to career advancement, business owners are able to…
attract and retain top talent
motivate employees to work harder
encourage employees to stay with the company longer
Franchise brands have recognized this trend and are using career pathing as a way to recruit top talent. This not only benefits the business in terms of employee retention and productivity, but it also benefits employees by providing them with clear goals to work toward.
The path from entry-level employee to franchise owner
Hourly employees who aspire to become business owners can pursue this career path by gaining experience and knowledge in their current job roles, developing strong leadership skills, and exploring opportunities that align with their interests and strengths. With dedication, hard work, and clear expectations, entry-level employees can transition into ownership and achieve their entrepreneurial goals.
An example of an hourly-employee-turned owner is that of Rosalind Brewer, who started at Walmart as a cashier. She worked her way up through the ranks to become the CEO of Sam's Club and is now the CEO of Walgreens Boots Alliance. Success stories like hers serve as inspiration to others who may be starting out in entry-level positions and dreaming of one day owning their own business.
Opportunities for career advancement in franchising
One example of a franchise that offers career pathing is McDonald's. McDonald's is one of the largest and most successful franchises in the world, with over 38,000 locations in more than 100 countries. In order to attract and retain high-quality hourly employees, McDonald's offers a clear path to ownership through its "McDonald's Archways to Opportunity" program.
This program offers resources for employees to learn about the franchise business model, financing options, and the steps it takes to become a manager or franchise owner.
Another example of a franchise that offers career pathing is Domino's. Domino's is a restaurant franchise with more than 20,000 stores servicing over 90 international markets. When it comes to promoting from within, the company has something to brag about. More than 95% of Domino's franchisees in the U.S. started off as part-time pizza makers or delivery drivers.
In order to attract and retain high-quality hourly employees, Domino's advertises a clear path to ownership through its "Movin' Up" campaign. In a 2022 commercial, Domino's franchisee, Lolly, recalls going from working part-time at age 17 to owning two stores by age 27. She tells job seekers, "Promotions can happen quickly if you work hard and learn the business. Apply today, and maybe someday you'll also own a Domino's."
Recruitment and retention best practices for franchise owners
While not every business has the resources of McDonald's or Domino's, there are simpler ways to establish your business as a place for someone to grow their career.
Here are five ways to attract and retain entry-level or hourly employees.
Give clear expectations. Develop a clear job description and hiring process to attract the right candidates for your brand.
Raise the benefits bar. Offer competitive wages and benefits packages to retain top-performing employees.
Offer career advancement. Provide ongoing training and development opportunities to enhance employee skills and job satisfaction.
Recognize a job well done. Foster a positive work environment by recognizing and rewarding employee achievements and promoting teamwork.
Encourage actionable feedback. Communicate regularly with employees to address concerns and provide feedback, and encourage open and honest communication among team members.
The benefits of promoting from within
McDonald's and Domino's are examples of brands that have recognized the importance of career pathing and promoting from within in attracting and retaining high-quality employees.
By promoting from within, franchisors can ensure that their future owners have a deep understanding of the company culture and values. This can lead to better customer service and overall success for the business.
Additionally, offering career advancement to employees can improve retention and morale, as it shows that the company values and invests in their teams' future. According to the same 2023 LinkedIn report, an employee who has made an internal move by the two-year mark has a greater chance of staying with their company. Therefore, boosting your business' chances of retaining high-performing employees.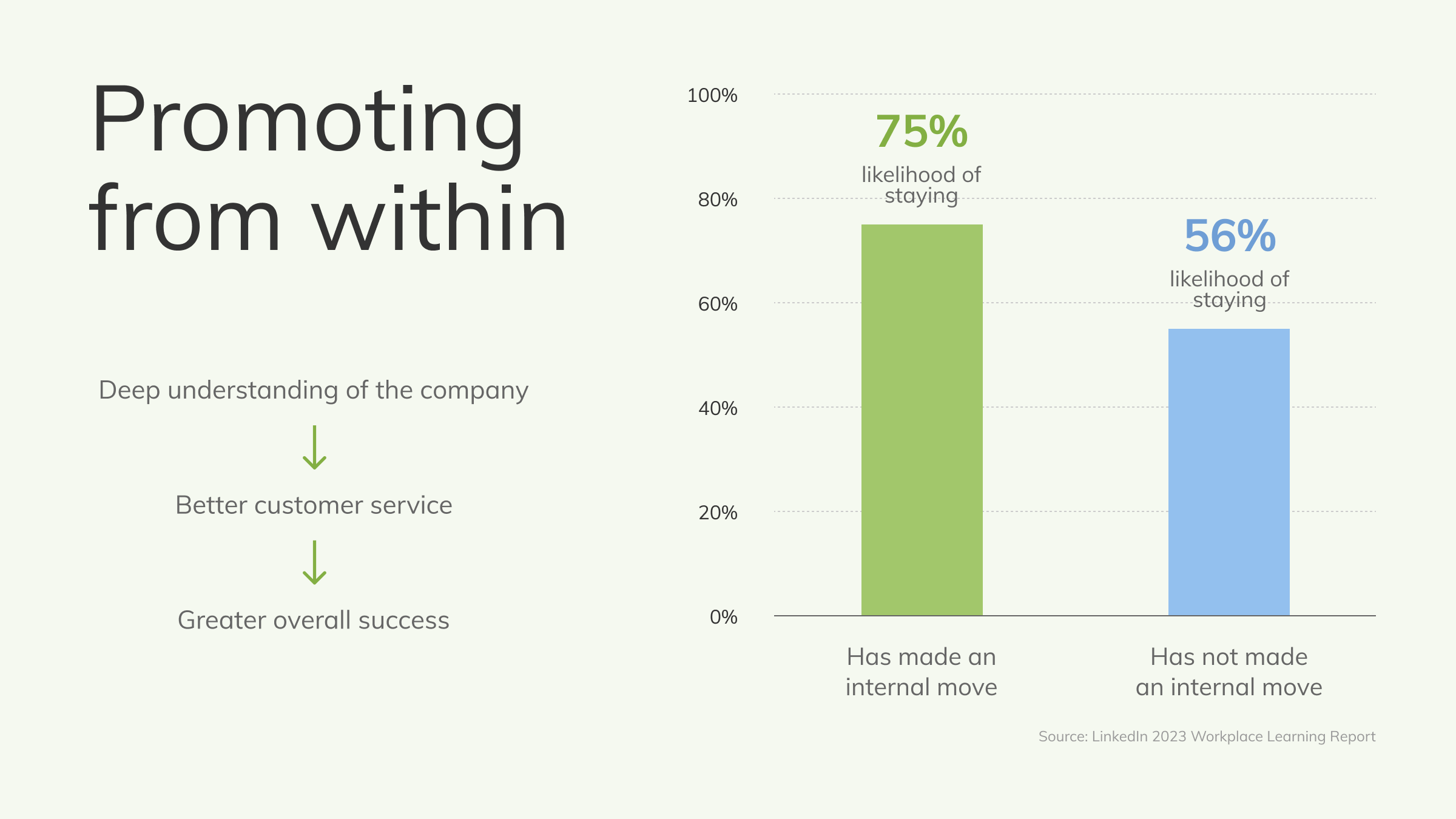 Leveraging technology that helps your locations hire
In a competitive job market, companies that stand out from their competition will have a distinct advantage in attracting and retaining top talent. Wizehire equips businesses of all shapes and sizes with tools to replicate a successful hiring process everywhere they do business.
With one-click posting to 100+ top job boards, you can reach a wider pool of potential candidates and streamline the application process. Plus, Wizehire's shared applicant tracking system makes it easy to manage every location's hiring process in one, simple dashboard.
See the hiring platform 18,000+ small businesses trust for top talent.