Excellent sales professionals are the backbone of any good insurance business. This means you need to hire people that will
stay with your business as long as possible
. In the same way that it can take years to build a book of business filled with long-term customers, employee retention takes time but pays dividends for years to come.
Why retention matters in insurance
Just like you approach a customer as an investment, your approach to hiring should be geared toward building relationships that are more valuable in the long term. I
ncreasing your employee retention by
just five percent
can double your profits because of the compounding referrals-and-renewals effect.
Retention becomes more important when you consider that it can take
up to two times an agent's salary
to replace them
.
In order to overcome the significant effect of the Great Resignation on the insurance industry, business owners have to consider the landscape of the insurance market. A broad survey of the 2022 finance sector from The Jacobson Group shows that hiring is not the problem – retention is: the data presents a
ten-year low in industry layoffs but a 10-year high in employee resignation
.
People aren't being laid off, they are quitting.
It's not just sales agents, positions are vacant in technology, actuarial services, underwriting, analysis, and claims adjusting. You need to have an understanding of best practices in hiring which lead to retention, as well as some foundational elements of relationship-building which help make an employee more likely to stay. WizeHire provides hiring tools that are built around best practices, and our industry experts help you craft a hiring strategy to build better profits in the long term.
Overcome retention challenges
Problems with recruitment and retention are familiar to the insurance industry, and an "acute" hiring shortage places overall unemployment in the insurance sector at 1.5 percent compared to the national average of 3.6 percent as of June 2022, according to
Insurance NewsNet
. Most business owners intend to hire more sales agents, but how can they find them? Multiple factors make it difficult:
The insurance industry has seen an increasing level of turnover which began as early as 2011.

In the face of economic hurdles and COVID-19 pandemic conditions, many older insurance agents chose to retire early.

The insurance workforce is aging, and employers are finding it challenging to hire

millennial and Gen Z employees

.
In order to overcome hiring hurdles and pandemic restrictions, and appeal to the younger demographic who value workplace flexibility, insurance businesses are adapting to new hybrid and work-from-home models which allow independent agents to sell over the phone and virtually, without going into an office.
One of the primary barriers to hiring, according to Teresa Chan, Columbia University's Master's in Professional Studies in Insurance management, is that many recruits in younger generations
do not understand the opportunities available in the insurance industry
, and therefore do not see the benefit of taking a job in insurance.
Chan suggests hiring outside of the insurance industry to bring in employees with diversified skill sets and new perspectives on practices, to help fill more specialized positions requiring math and technology skills, such as data analytics.
Creating jobs that require skills in those areas and include opportunities for growth for professionals from other industries is one simple way to facilitate your business' access to diverse talent.
Tailor your insurance recruiting strategy
Employees in today's market value flexibility, with many employees preferring jobs that allow work-from-home opportunities. Significantly, younger generations also prefer
workplace cultures that are driven by
strong core values and a commitment to employees
and often perceive the
insurance business as less desirable than other industries.
In terms of company values,
younger generations prefer leadership styles
that are
transformational in nature
, with mentors who provide a strong example of ethical and inspiring workplace behavior to initiate change from the bottom up, rather than top-down leadership approaches. In your initial job listing, emphasizing opportunities for mentorship and growth for employees transitioning from other industries can help attract a younger generation and capitalize on the wide talent pool available as a result of the 2021 Great Resignation.
Steps to enhance your job listing: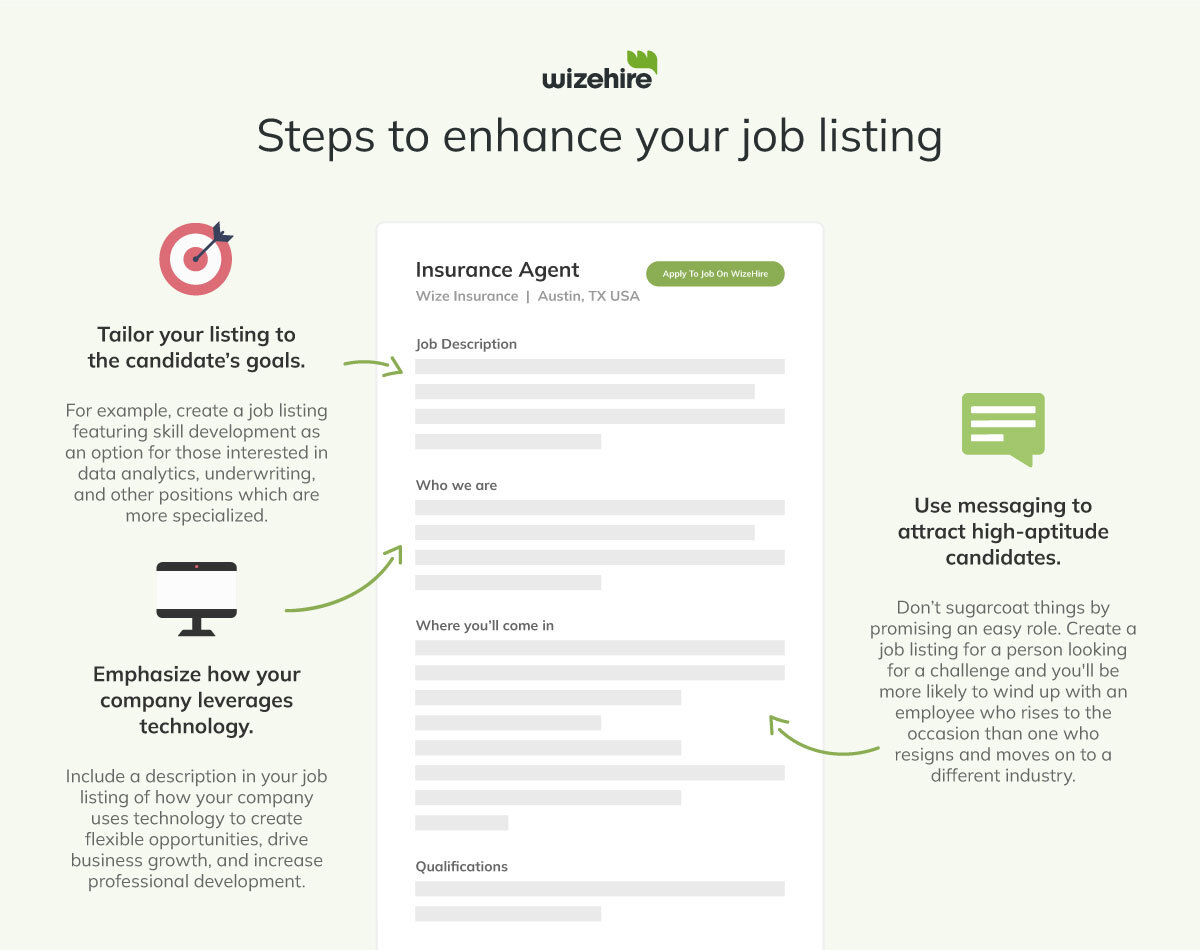 Wizehire's
pre-written
job ad templates
are optimized specifically for the insurance industry and allow for full customization so that your company's values and benefits can be communicated in a voice targeted at the values of your ideal candidate.
Our tools and strategies can help you establish a company voice that promotes the values you truly espouse, rather than using generic language a recruit might find in any job listing for insurance positions.
Attracting employees you can retain in the long-term means understanding how to communicate your values, emphasizing your strengths as a company in leveraging technology and applying methods of transformational leadership, and attracting talent with diverse skills to enhance your overall pool of human resources. Having specialized support from a team of hiring professionals makes it easier to keep up with hiring trends while you are busy staying up-to-date on policy benefits and client paperwork.
If you're ready to kickstart your insurance recruiting today
here's how to get started.