Flexibility is key
for the insurance industry in 2023.
Insurance hiring trends make it clear that the hiring market remains focused on alleviating a talent shortage while planning for sustainable growth amidst concerns of an impending recession. 
The 2023 Q1
Labor Market Study by The Jacobson Group
indicates
90% of respondents surveyed plan on hiring in 2023, and plans for hiring are largely dependent on increases in market shares
. As of February 2023,
unemployment in the insurance industry is down
compared to unemployment in the general U.S. labor market, at a difference of 2.2%.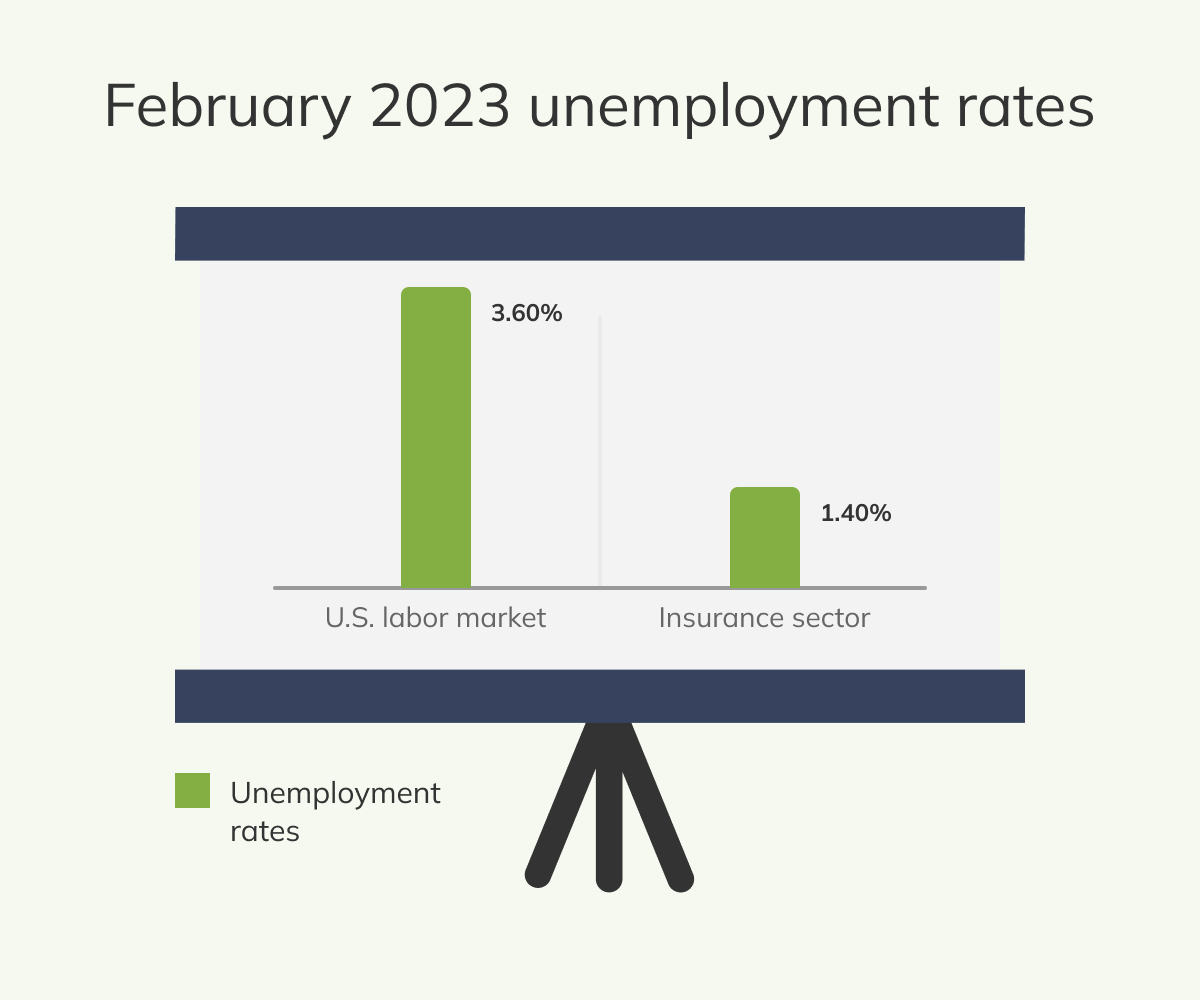 Gregory P. Jacobson, co-CEO of The Jacobson Group, when interviewed on the study results by
Business Wire
, said of the 2023 labor market that "recruiting remains challenging, and retention is a key focus." 
Capitalizing on the new talent pool
Overall, growth is expected in 2023 for the insurance industry, despite a
downturn in insurtech valuations
at the end of 2022. As insurtech becomes a seasoned part of the insurance industry, insurance companies can capitalize on the talent pool of engineers and data analysts available for hire who initially entered the insurance industry due to an attraction to the insurtech space.
In fact,
The Jacobson Group and Ward Benchmarking
indicate the highest projected growth for 2023 will be in the areas of technology, claims, and underwriting, with technology, actuarial, and underwriting positions being the most difficult to fill. Wizehire's
customized job ads
are able to target employees with experience in highly valued areas by casting a wide net across over 100 job listing sites and using key words to attract candidates to those ads.
Total industry turnover, according to the Insurance Industry Labor Market results from The Jacobson Group's market research, was at 14.7% from January 2022 to January 2023. Life and Health headcounts grew by 1.27% and Property and Casualty by 1.92%. Higher growth in the Property and Casualty sector may be related to
climate change
, with 2022 showing record numbers of claims for damages caused by earthquakes and hurricanes.
The Jacobson Group projects a 1.67% increase in employment for 2023, with the most significant growth in the Property and Casualty sector. Life and Health is expected to increase employment by 0.51%, while Property and Casualty is anticipated to grow by 2.07% during 2023 in employee headcounts. Commercial Property and Casualty is anticipated to demonstrate the highest employment growth at a projected 2.16%.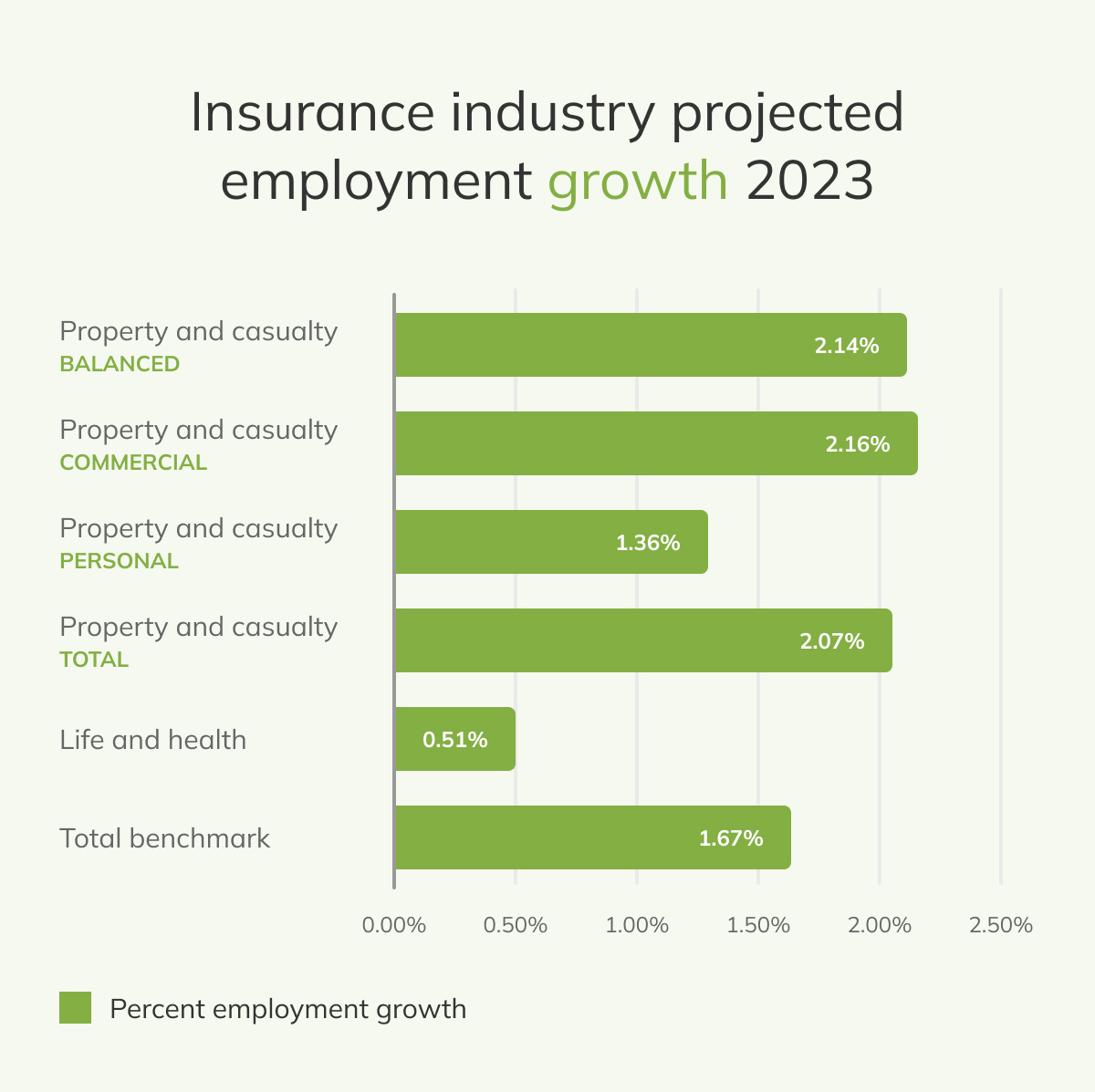 Recruiting challenges include matching worker and company expectations for environment and flexibility. Most employees prefer flexibility, and many talented employees are hesitant to shift back to working in the office full time after becoming accustomed to a more flexible routine during the COVID-19 pandemic. 
Smaller insurance companies in remote areas with low local populations may be able to level the talent playing field using online recruiting and remote work, although larger companies may feel it is too difficult to develop a strong company culture with a remotely distributed labor force.
Hiring concerns for small and large insurance companies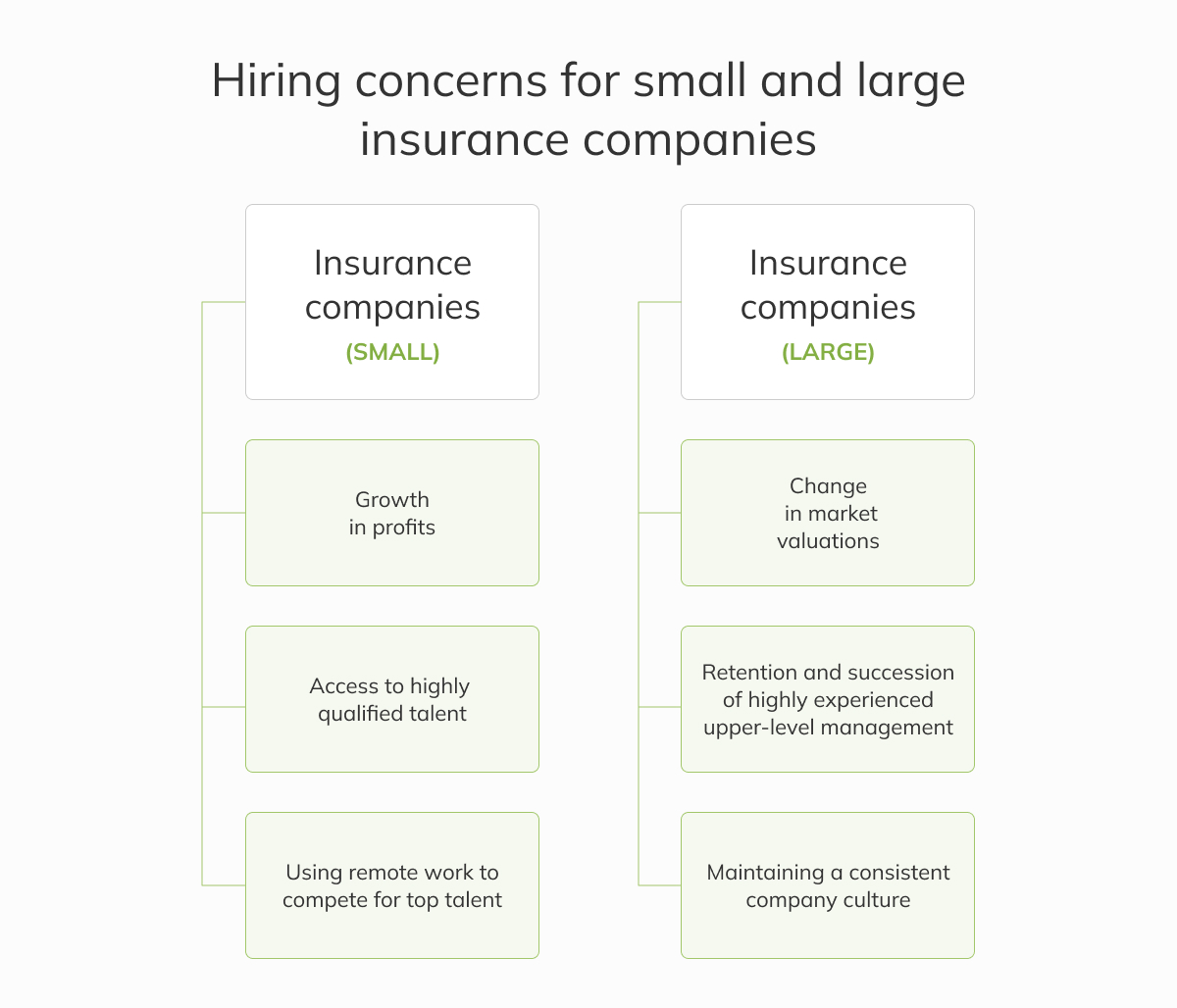 According to
The Jacobson Group and Ward Benchmarking's webcast
,
the number one question asked by potential recruits is about the level of flexibility a job offers
. Smaller insurance companies and those in rural areas are able to benefit from this trend by using online recruiting to seek candidates from a wider talent pool, and, potentially, hiring more qualified candidates than those locally available. WizeHire's customized job ads help reach the most talented insurance agents, and our customizable pre-screening tools help your company narrow down your hiring pool to your preference (digital, in-office, or hybrid) so that both employee and employer are satisfied with the arrangement. 
A
planned and strategic focus on retention
continues to be crucial to sustainable growth for insurance companies. More experienced agents make more sales and gain more renewals and referrals, making them more profitable for your firm. According to a
2022 report from the Bureau of Labor and Statistics
,
employees ages 55 to 64 years old have an average work tenure three times higher than their 25 to 34 year-old counterparts
. Insurance companies can approach this challenge by: 
Creating a formalized retention plan including onboarding strategies for success.

Ensuring candidates are a good match with company values and expectations.

Communicating with employees to determine their goals and career satisfaction levels.

Creating succession plans for those employees who do plan to change positions.
How can you keep up with these insurance hiring trends?
Wizehire's pre-screening tools enable you to filter employees for company fit by including questions important to your organization. You can craft pre-screening questions to address important retention issues for 2023, including: 
Does the candidate have a preference for remote or online? 

Does the candidate possess technology skills relevant to today's environment? 

If the employer desires a hybrid environment, is the candidate willing to come into the office for a specified number of days per week? 
Wizehire's pre-interview screening questions help you save time, so that you only speak with employees who desire the same work environment and outcomes as your organization. By crafting a job listing which truly reflects your company's core values and includes the most relevant questions before a formal interview, you are able to get an edge on the competition with our custom tools. 
Another important trend specifically related to your insurance job listing is the increase in pay transparency laws.
California, Colorado, New York, and Washington have all passed laws related to pay transparency in job listings
, such as transparency in salary ranges, and this is likely to affect
how the insurance industry writes job listings in 2023
, since more states are expected to pass similar laws over the coming years. 
Insurance hiring in 2023 means remaining flexible. While industry growth is expected, challenges to recruiting, including location preference and overall market valuation, remain important considerations. Retention, especially for candidates ages 25-34, remains a critical focus for the insurance industry. Wizehire's hiring coaches are available by chat and phone for our valued insurance industry clients to help you adapt to a fluctuating market and changes in hiring trends. See Wizehire's pricing to start hiring.