Small Business Owner's Guide for Relief Loans – Tips from WizeHire
This page provides regularly updated information on Paycheck Protection Program (PPP) forgiveness and is based on emails originally shared with WizeHire customers.
---
October 21, 2020
The Small Business Administration announced that companies that received a Payment Protection Loan for less than $50,000 (70% of PPP loan recipients) are eligible to use Form 3508S to file for streamlined loan forgiveness. You can use this form without a reduction in loan amount even if you: 
Reduced your number of full-time employees

Reduced your employees' salaries or wages
Here's what you need to fill out the form:
The

7 total certifications

that you, the borrower, must verify

A document including all payroll and non-payroll related expenses
Note: You aren't eligible to use this form if you have a contractor agreement of affiliation with one or more businesses and the PPP loan total amount across businesses is more than $2 million.
Be sure to check with your lender about any upcoming payment dates and your current payment deferrals.
---
August 31, 2020
30 leading industry organizations, including the NAR and US Chamber of Commerce, advise employers to continue withholding payroll taxes due to future employee tax liabilities.
The US Chamber created an impact analysis chart (shown below) explaining that while employees would get a small benefit check this year, those who make under $104,000, would owe much more next year.
For example, according to the groups, a $104,000 salary would increase a bi-weekly payment by $248, but the tax owed in 2021 would potentially be $2,232.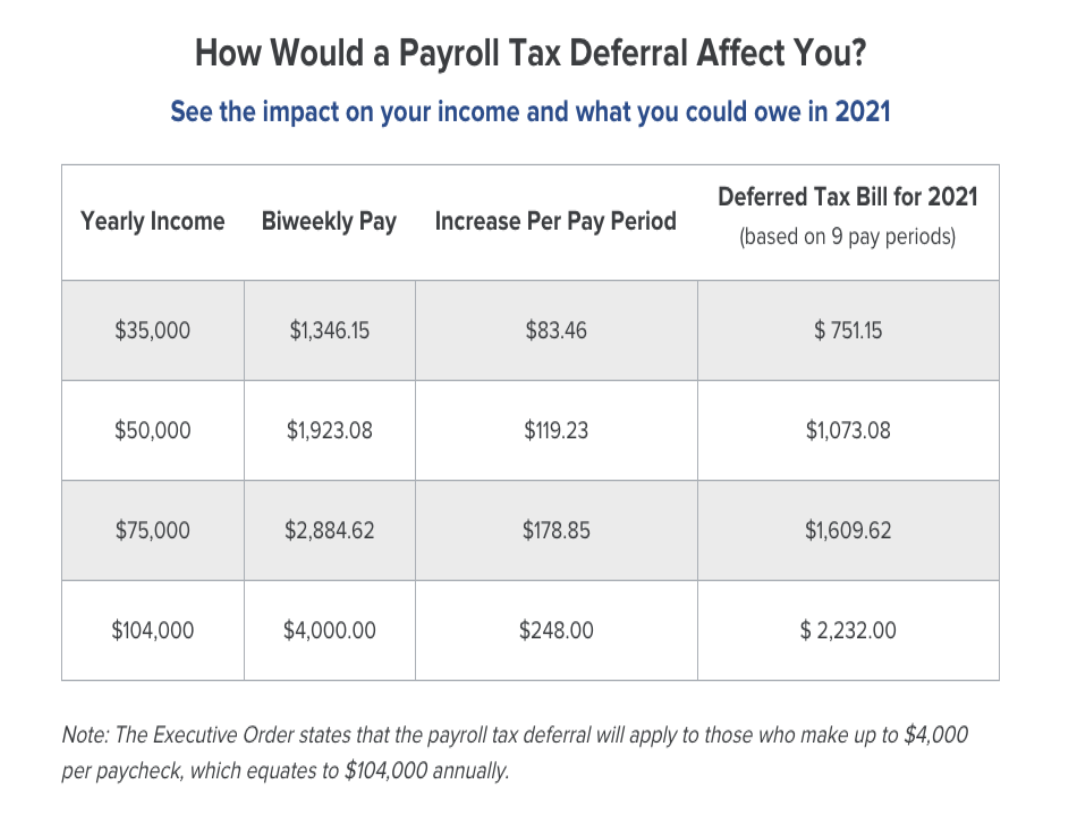 In a letter to Congress and the US Treasury, these organizations encouraged collaboration and a path forward to provide tax relief to Americans without the imposition of a large future tax bill. 
The new withholdings rules go into effect September 1. Read the full letter and a press release from the US Chamber of Commerce here.
---
July 8, 2020:
The President has signed the Payment Protection Program extension bill, allowing small business owners until August 8 to apply for a PPP loan. 
Here's what we know right now:
There's still about $130 billion left in PPP funding

If you haven't applied yet, there's a new "

EZ application

" (3508EZ) you can fill out to apply for loan forgiveness. Any borrowers who didn't reduce salaries or wages by more than 25% or have no employees (instead they hire contractors or sole proprietors, for example) can use this form.

If you applied for a loan but never heard back, but believe you're still eligible, it's not too late to apply through a different lender.
---
June 5, 2020:
The President has signed the Payment Protection Program Flexibility Act into law. Small businesses that received a PPP loan will now have more time to pay it back and be able to spend more of the proceeds on operations. Here's what you need to know:
Available funds for expenses other than payroll through a PPP loan have increased from

25% to 40%

. (However, the money must still go toward one of the following: rent, mortgage, payments, utilities, and loan interest.)

The time to pay back the loan has increased from

8 weeks to 24 weeks

. (But you can still apply after 8 weeks, if you want to.)

For funds that are not forgiven, the time to pay the unforgiving loan amount has increased from

2 years to 5 years

.

The June 30, 2020 deadline to rehire works for their salaries to count toward forgiveness has been pushed back to

December 31, 2020.

 
There have also been easements to the rehire requirements. You can still receive forgiveness on payroll if:
You're unable to hire someone who was an employee on or before February 15, 2020.

You can prove you've been unable to hire similarly qualified employees by December 31, 2020.

You can prove you've been unable to return to a similar level of business activity as operations were on or before February 15, 2020.
If you're looking for the current SBA forgiveness form or resources on PPP loan forgiveness sooner, rather than later, here's this link again from our friends at Gusto: https://gusto.com/blog/business-finance/ppp-loan-forgiveness-spending-guide
---
June 3, 2020:
The Payment Protection Program Flexibility Act just passed in the Senate and is now on its way to the President's desk.
---
May 29, 2020:
As May wraps up, demand for PPP loans has slowed and roughly $140 billion in funding remains from the 2nd round. According to the Census Bureau, 75% of businesses have requested PPP loans and 70% have received funding.
Now, the focus has shifted to how more small businesses can take advantage of the program. The House recently passed the Payment Protection Program Flexibility Act, which would ease restrictions and forgiveness rules and allow businesses more time to use the loan and spend more of the proceeds on operations. The bill now moves to the Senate where we hope it will pass next week.   
Here's a breakdown of the planned changes: 
Reduce the minimum amount that must be spent on payroll from 75% to 60%. This would allow up to 40% to be spent on rent, utilities, and other operating expenses. 

Increase the timeline to spend PPP loan funding from 8 weeks to 24 weeks, giving more businesses time to return to work and rehire. 

In the event funds are not forgiven, increase the repayment timeline from two years to five years.
While we're waiting, next week many businesses will enter the eighth week since receiving approval for their PPP loans, and face deadlines for the current forgiveness rules.
For all businesses that have received funding, our friends at Gusto have put together a great guide to help plan for full PPP loan forgiveness. https://gusto.com/blog/business-finance/ppp-loan-forgiveness-spending-guide
---
May 4, 2020:
The SBA resumed accepting applications for PPP Loans last Monday, April 27. In the first week of this 2nd round, 2.2 million loans were processed, providing small businesses with $175 billion in funding. 
With more than half of the second round dollars already allocated, funding is likely to run out this week. 
If you've been unable to apply for a PPP loan through a national bank, I continue to recommend your local lenders as the best choice. Forbes has also put together a list of non-bank and alternative lenders worth considering.
---
April 24th, 2020:
Earlier today, an expansion to the PPP was signed into law, replenishing the program with $310 billion. The law also brings an additional $60 billion for the Economic Injury Disaster Loan program. With this added funding, the SBA will be able to continue processing PPP loan applications on a first-come, first-served basis. If you haven't submitted an application yet, Gusto has put together an updated list of lenders currently accepting applications.
---
April 16th, 2020:
PPP loan funding ran out this morning and Congress continues to negotiate an additional $250B in funding. If you did not hear back on your loan, we recommend reaching out to your legislators to share your story by either calling (202) 224-3121 or using the Find Your Representative website: https://www.house.gov/representatives/find-your-representative
---
April 10th, 2020:
I've been talking to a lot of business owners about their PPP experiences and I'm hearing the same things: a small percentage are getting funding so far (typically from smaller, local banks), while many are stuck waiting, and for a few, big banks are turning customers away. 
If your current bank will not accept your application, I want to share two lenders that we've confirmed are accepting and processing loans from non-customers:
Fundera: https://www.fundera.com/
Cross River Bank: https://crossriversba.com/
Additionally, here's a list of some smaller banks are worth exploring: https://smartasset.com/insights/ppp-loan-lenders (The ones noted with ** are already taking applications from non-customers).
Important: If you've already applied for a loan but haven't been approved yet, don't apply again. The SBA outlines this and other questions in a new FAQ. Only apply again if your current lender has pushed you to do so.

---
April 2nd, 2020:
From one business owner to another, I wanted to make sure you're prepared so you can benefit from the small business relief programs available starting April 3rd, through the recently passed CARES Act.
In my opinion, the most critical element of this law for small businesses is the $349 billion set aside for the Paycheck Protection Program (PPP). This program is separate from the disaster loan program I mentioned two weeks back.
The PPP works through the Small Business Administration in partnership with local banks to ensure companies like yours have the necessary capital to maintain operations and retain your people—through emergency loans that are ultimately forgiven.
This program is being launched at a rapid pace. Someone at your bank is likely working tonight to ensure things go smoothly.
I highly encourage you to evaluate this program for your business and contact your bank. The SBA is anticipating running out of funds within two weeks of the application opening. Time is of the essence.
If you haven't researched the program yet, I wanted to share the latest resources with you:
The US Chamber of Commerce put together a great guide on the program outlining how to qualify, what lenders will require, how much you may borrow, and what is forgiven.
The PPP will work through existing bank programs, however not every bank will accept applications on April 3rd. The SBA provides a lender matching tool to help businesses find lenders. If you do not already have a banker with an existing SBA program in mind, use this list to find options.
Yesterday, the Treasury provided a sample application form. It may change by tomorrow, but one thing is clear: it is about as simple as government forms can be. Your lender of choice will likely use a very similar application form.
If you choose to apply, you'll need the following payroll documents:
Every employee's W-2 for 2019 and when applicable, Form W-2 C
All 4 quarterly-filed Form 941 due to IRS within 30 days following quarter-end
Annual IRS Form 940 due to IRS by January 31
Each independent contractor's 1099
All 4 quarterly-filed Form 1040-ES for self-employed individuals
The 2019 YTD detail of payroll paid (if you use a third-party tax service)