How to Write a Job Description That Gets the Job Done
"You can have the best strategy and the best building in the world, but if you don't have the hearts and minds of the people who work with you, none of it comes to life."
-Renee West, Former President Luxor and Excalibur Hotels
When growing your company and employer brand, building the right team can make a huge difference in how successful your organization becomes. Deciding who to hire when and what they will do for you is one of the biggest challenges company owners face.
Hiring, training, and managing your team is easier when you have set clear job descriptions that outline the purpose of the role, what you want accomplished and what's needed to get the job done.
Defining these details up front in your job description provides you with 3 key fundamentals:
The foundation of an effective job ad so you can hire the right people

A framework to manage the employee(s) in the role

Clarity for your entire team on what the role entails, why it exists and how it helps achieve company goals
Before we jump in, let's talk about the difference between a job description and a job ad. Here are some important distinctions between the two: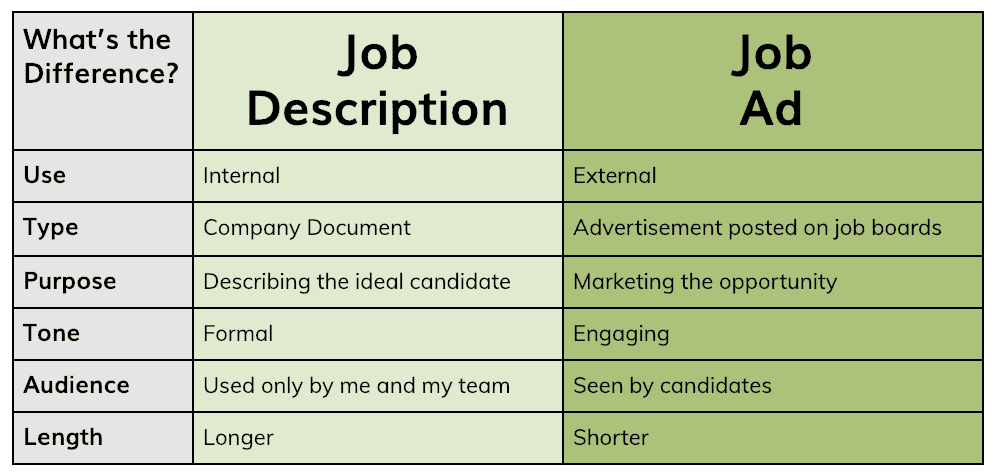 To summarize, a job description is a company document describing the ideal candidate internally to your team and a job ad is externally marketing the position to candidates. Now that you know what we're working on, let's get started on your job description.
You know your business intimately, so you already understand the high-level objectives of every role. All you have to do is get your ideas in writing. From there, your job descriptions will quickly identify the kind of help you need and provide a foundation on which you can build a team that will help you to accomplish your overall mission.
How to Write a Job Description
Good job descriptions outline the ideal candidate. Below is the outline for a job description.
Job Title:

Determine what role you need to grow your team.

Reports to:

Define who will onboard, train, and supervise their work.

Job Mission:

Describe your purpose of the role.

Expectations:

Outline your expectations on what they will accomplish.

Job Tasks and Responsibilities:

A list of the role's tasks and purpose statements that align with your expectations.

Technical Skills:

Required skill competencies necessary to do the job

Qualifications:

Experience and accreditation requirements

Team Core Values:

Qualities you expect in all team members

Personality Profile:

Know the behaviors and motivations of ideal performers.
We will cover how to write each section, prompt you with the right questions to collect your ideas, and later show you how it comes together in a job description sample. With this guidance, you'll be ready to quickly craft a high-quality job description that educates, informs and helps you bring the right people on board.
Job Title
When naming the position, there are 2 ways to go: formal or 'niche.' Your position title can be self-explanatory or you can use terminology that will make sense only to your internal team. For example, if you were creating a role for an Inside Sales Agent, you can use 'ISA' as the title of the your job description and put it on your organizational chart if that's what you plan to call the individuals performing the role.
Questions to answer when creating a Job Title:
Do you want everyone to understand the job title immediately or would you rather create a title that's meaningful just to your team?

What will work with the organizational chart you are building?
Who They Report To
Write down who you believe the person in this position reports to in your company hierarchy. Think about the big picture. Everyone reports to someone and ideally the person the employee reports to will onboard, train and supervise. Your first employee(s) will most likely report to you. Subsequent employees will ideally report to others.
Questions to answer when deciding who they will report to:
Is it feasible that every employee reports to you?

What's your ideal scenario on who will onboard, train and supervise them?
Mission
Summarize the position's core mission. On a very high level, you need to determine what they will be paid to accomplish and how they should do it. Include basic goals of the role that focus on outcomes. If you are a small business owner, each employee should take some tasks off your plate, so make sure the job's mission is working towards the same larger company goals.
Questions to answer when documenting the Mission for this position:
What are the basic goals for the people in this role?

What broad areas will they address in their daily activities?
Here's an example mission for an Inside Sales Agent:
To plan and achieve prospecting and sales targets. To provide a first-class experience to all customers that enhances company brand. To pre-qualify buyers, understand the needs of sellers and negotiate sales effectively.
Here's an example mission for a Paralegal:
A poised, attentive professional to serve as the first point of contact with our top-tier Park Cities Law Firm. We take pride in our high-quality services and the care and attention that we give to our clients starts at our front desk. Our ideal candidate will be punctual, professional, and will provide prompt attention to our clients.
Expectations
Imagine a top performer in this role then take the mission you just identified and determine how you want that person to accomplish those goals on a regular basis. Think about achievement standards you want to set for the position. From there, list the expectations you have for a top performer.
Questions to answer when considering Expectations:
What would a top performer in this role get done regularly?

What achievement standards are needed to accomplish company goals?
Here are some example expectations:
Respond to emails within 24 hours

Ramp into production 30 days after hire

Exceed monthly sales quota by 2%

Make 50 calls per day

Achieve 95% or higher accuracy rate

Meet or exceed monthly department goals
Tasks and Responsibilities
Create a list of tasks to be done. Each task should have a specific purpose. Once you have paired each task with a purpose statement, then make sure the responsibilities align with the expectations you've just identified. Instead of creating a laundry list of duties of mundane tasks, think deeply about exactly what you see them doing and why it's important.
This helps your team understand why this position is necessary to achieve the greater goal while also getting buy-in from your team. Buy-in equals engagement. Strive for no more than 5-7 clear and direct task and purpose statements. Keep your list concise by grouping similar activities and goals together.
Questions to answer when creating a comprehensive list of tasks and responsibilities:
What are the tasks you want this person to address each day?

What is the purpose of each task?
Here are example tasks and responsibilities for an Inside Sales Agent:
Prospect for and engage with clients to build and manage a pipeline of future clients

Follow scripts and plan to achieve productivity, appointment setting and revenue targets

Cold calling and responding efficiently to customer inquiries to achieve improved customer satisfaction ratings

Outbound calling, e-mail communication, coordination to schedule appointments

Accurately qualify potential customers and track metrics to ensure weekly goal attainment

Participate in regular training and education requirements to continuously improve skills
Technical Skills
Convey the must-have skills and knowledge everyone in this position will need to master to accomplish the tasks and responsibilities you've identified above. This section will contain required skill competencies and job requirements necessary to succeed in the role.
Questions to answer when determining necessary technical skills:
What skills are needed to accomplish the position's tasks?

What basic knowledge is needed by everyone in the role?
Sample technical skills:
Customer/client database management

2+ years of sales experience

Real Estate license

Lead qualification (BANT)

Rapport building and active listening

Objection handling

Clear communication skills

Calendar management
Qualifications
Include the necessary credentials for a position such as a number of years of experience in a similar position, licensing requirements, or a certain level of education and/or knowledge of a particular software/machinery. Setting these standards ensure a well-qualified team.
Questions to answer when writing job qualifications:
What will qualified individuals have for credentials or need to know?

What educational, experiential or licensing requirements are important?
Team Core Values
How people do their jobs is also important. Take the time to think about which core values you expect from every individual in this role. Values will help you create the best culture for your team. A team with a culture that's appreciated by all of its employees always come out on top.
Choose 5 of the following core values you would like to see in those serving in this role:
| | | |
| --- | --- | --- |
| Adventurous | Generous/Helpful | Persuasive |
| Analytical | High Standards | Proactive |
| Coachable | Honesty/Integrity | Quick Learner |
| Conscientious | Intellectually Curious            | Strategic Thinking/Visioning |
| Creative                                     | Passionate | Teamwork |
| Flexibility/Adaptability        | Persistence | Work Ethic |
Questions to answer when determining your core values:
What qualities do you expect in all team members?

If all team members possess these qualities, would the team succeed?
Personality Profile
Once you have identified the mission, tasks and qualifications for the role, it's time to decide the behaviors and motivators of the ideal candidate. WizeHire has created personality benchmarks for many roles using our proprietary DISC behavioral assessment that measures how they should act, but also why they're motivated to act in that way. Knowing the preferred behaviors and motivations of your team members will help to keep them engaged and operating at peak capacity.
Questions to answer when considering the ideal personality profile:
How will a top performer in the role act?

What qualities will motivate them to perform?
Here is a sample personality profile for an Inside Sales Agent based upon the WizeHire benchmark for the role.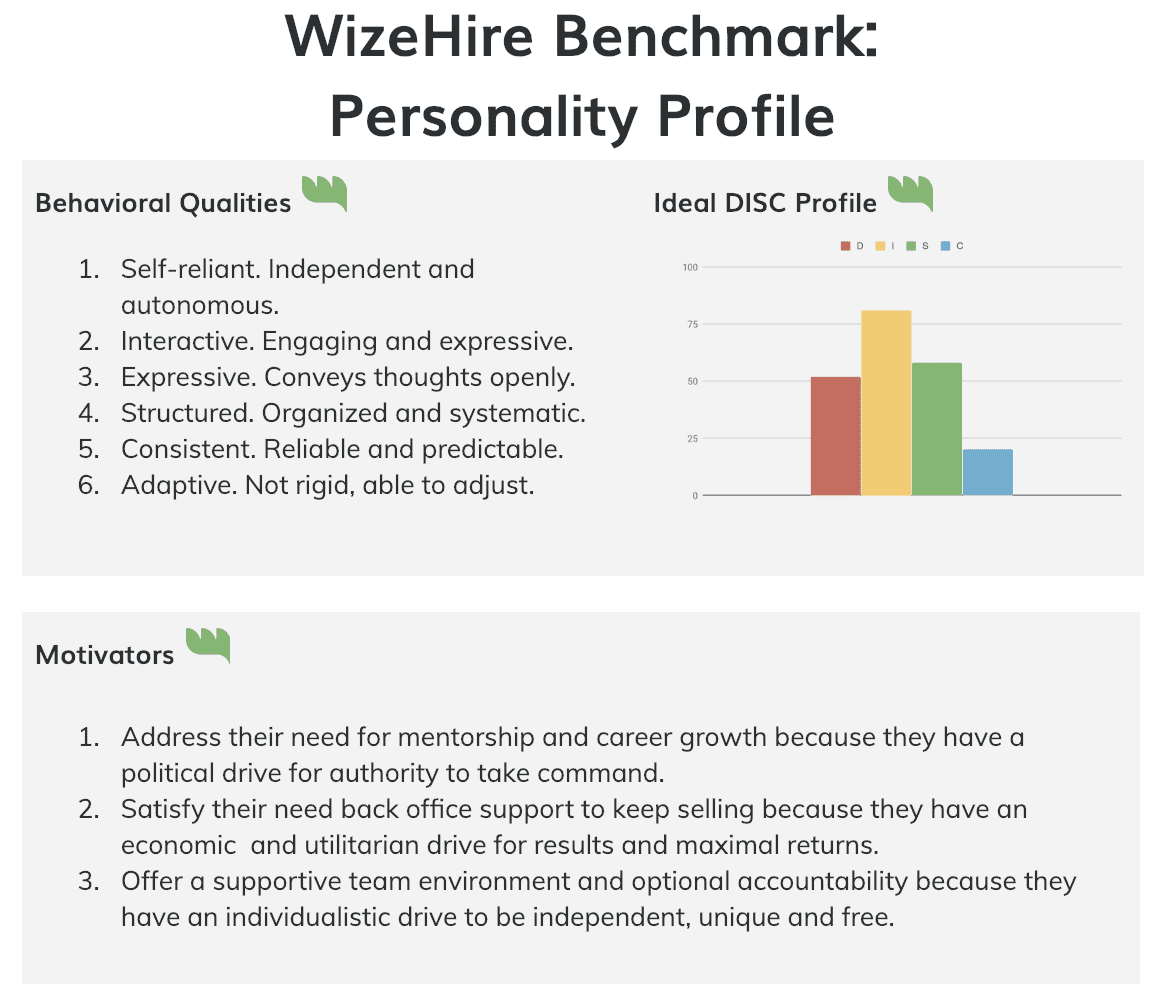 Putting It All Together
Curious about how each section comes together in a comprehensive job description? Here's an example job description for an  Inside Sales Agent Job Description to show you how it all comes together.
Download sample job description
Each section of a compelling job description can be filled in with the prompts from this guide. Here's a checklist to remember all of the questions and tips.
Job Title/Reports to

Question to ask: What type of help do you need and who will supervise their work?

Tip: Self-explanatory or 'niche'.

 Mission

Question to ask: What will they do and how will they do it?

Tip: Keep it broad.

 Expectations

Question to ask: What are your expectations for top performance?

Tip: Set achievement standards.

Tasks and Responsibilities

Questions to ask: What are the role's tasks? What is the purpose for each task?

Tip: Group similar activities.

Technical Skills

Question to ask: What are the required skill competencies to do the job?

Tip: List only must-have skills.

 Qualifications

Question to ask: What do good candidates need to have/know?

Tip: Educational, experiential and/or licensing requirements.

Team Core Values

Question to ask: What qualities should all team members possess?

Tip: Use these 5 Core Values to build your team's culture.

Personality Profile

Question to ask: What are the top behavioral and motivational qualities?

Tip: Use a personality assessment (WizeHire does this for you!).
This brainstorming makes writing job description faster and easier. Once your ideas are solidified, you've created a comprehensive job description template. When all positions on your team have solid job descriptions, you can use them as a foundation on which to build a great company!
Job Descriptions Help You to Hire, Train and Manage
With these foundational pieces in place, you can begin to craft an effective hiring process. You're able to create job ads for future hires that will attract the right potential candidates for your open roles. Once hired, you can easily communicate role specifics and hold team members accountable during a regular review process. Effective job descriptions help to you hire better, train faster and manage effectively.
The success of your business depends on your team—their personal qualities, skills and more. Carefully crafting great job descriptions allows you to set set clear expectations and meet your unique company goals.
It all starts with brainstorming and researching to figure out your ideal role requirements. Once you have that criteria determined, writing a job description is simple. Just plug your criteria into the job description formula as laid out in this guide, and you're ready to grow.