How To Recruit More Real Estate Agents Using 6 Core Sources
You've had enough.
You did a great job building your real estate brand, and customers are coming to you in waves. You're feeling swamped and less in control by the minute.
You don't want to stem the tide, just make it more manageable, so you start recruiting agents to add to your team.
And realize they're not coming in as fast as your customers are.
Ask any broker/owner about their top 5 biggest challenges and we guarantee finding real estate agent sales talent is at the top of the list. And since NAR stats show only about 6% of licensed agents move shops in a given 12 month period, the challenge gets even tougher.
If you want to scale your real estate brokerage, mastering this recruiting challenge is a must. Here are 6 sources to recruit more real estate sales talent used by agents on top teams.
You may have attempted some of these with varying degrees of success. Some, you may not have thought of trying. Be sure to check out the Pro Tips following each source to make sure you are getting the most out of your agent recruiting efforts.
Source 1: Use Video To Create Referrals from Your Sphere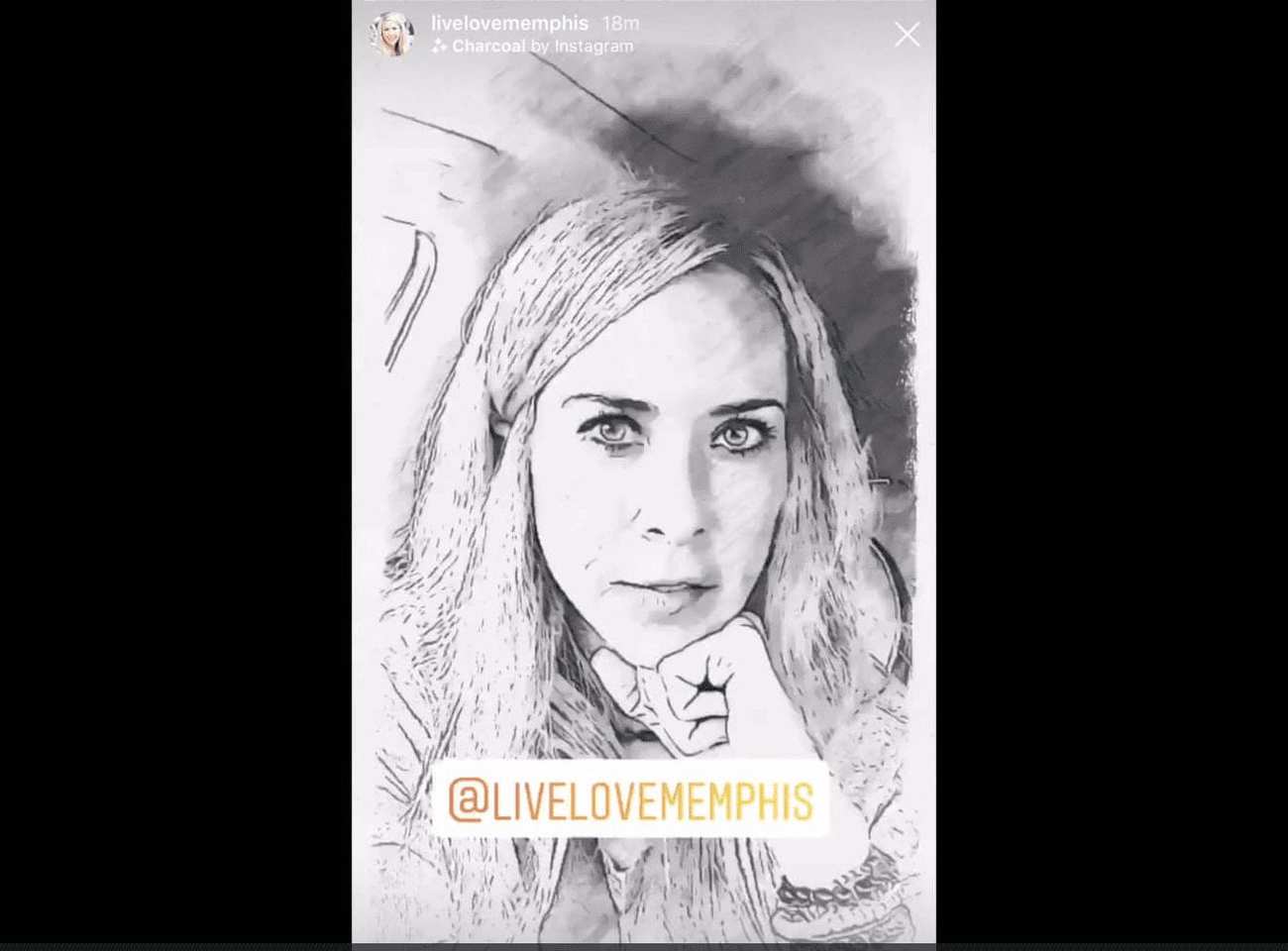 You may be thinking, 'Who has time to record videos?' You're already running a million miles an hour seeking deals, making deals, signing deals. You're too busy to write a script and schedule a recording session for a promo video, let alone a recruiting video.
Welcome to the Information Age. Technology is on your side and the answer is right in front of you. In fact, you might even be holding it in your hand.
All you need to do is record informative videos on your smartphone as you're out in the community doing your thing.
RE/MAX agent, Jennifer Carstensen provides an excellent example of how to use video to give useful tips to buyers and sellers, PLUS share that her agency is hiring new agents.
Go about your day being the exceptional agent you are, create videos that describe your activities, thoughts, dreams, vision, etc., and share them everywhere. Your website, your social media channels, create a youtube channel for your company… the opportunities are endless.
This will expand your brand, get people excited about your company and generate interest in joining your team.
Note that Jennifer was in her car, probably early for a listing appointment. Use your windshield time to your advantage. This is the perfect stage for your videos!
Source 2: Build A Prospecting List Of Underachieving Agents Using MLS Data Or BrokerMetrics
You're already in the MLS a million times a day, but have you considered farming it to create an agent prospecting list? With a little digging, you can see the top producers in your market. Who better to attract to your team?
Top agents identify the best talent in their town and follow a structured recruiting process to recruit agents. While the MLS can get you started with no additional investment, more robust and easier to find data is available on Brokermetrics.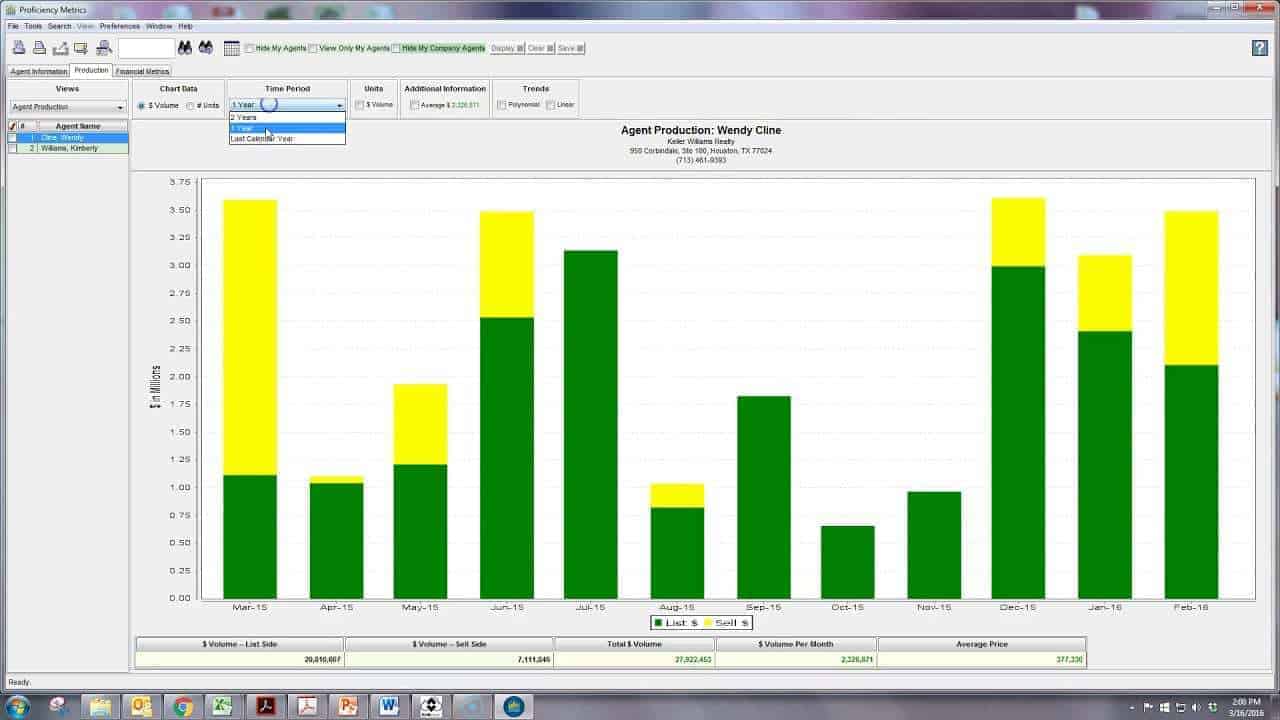 How do you start an agent prospecting list?
Think about all of the closings you and your team attend every month. When you're at the closing table, you're sitting right across from agents who are making sales. These are prime prospects who can improve your talent bench.
Top team owner Adam Roach has recruited 100 agents a year using a prospecting system that focuses on already successful agents and those who might be underachieving. He lays out a complete recruiting process and scripts you can follow on this Real Estate Rockstar Radio podcast.
Here are some highlights on how it works. You'll need a little help from your broker/owner or team to make this process really sing.
Here's what you do:
After a closing, place a quick call to the agent complimenting them on how they handled themselves during the meeting.
Mention that your broker/owner would also like to call to say thank you. "Will you do me a favor and take his/her call?"
Get confirmation and pass the name and number along to whomever is going to follow up.
Before the call, check out the agent out on the MLS or Brokermetrics. You're specifically digging into whether they've been as successful as they could be lately.
Determine if they're an agent currently selling 500K who might be looking to jump to 1M or an agent who is making 1.2M in sales and is really looking for 5M. Know going into the conversation if their transaction volume is increasing or decreasing.
Make the call and bring up those increases ('Congrats on the great results! How is your team supporting you as you grow?') or decreases ('I saw your closed transactions dropped last month. How is your current team supporting you through this downturn?').
As you talk, probe for the gap in where they are today vs the results they really want. You might want to create a calculator to help you nail the numbers and make the pitch for how your real estate business can help them achieve their goals.
This is a great way to open a dialog with licensed agents.
To continue the recruiting conversation, here are some great resources to help you interview experienced agents.
Source 3: Widen Your Search To Include Unlicensed Sales Talent
When you expand your search to top sales talent—not just licensed real estate professionals—you're opening up your hiring pool and you won't believe by how much. Check it out: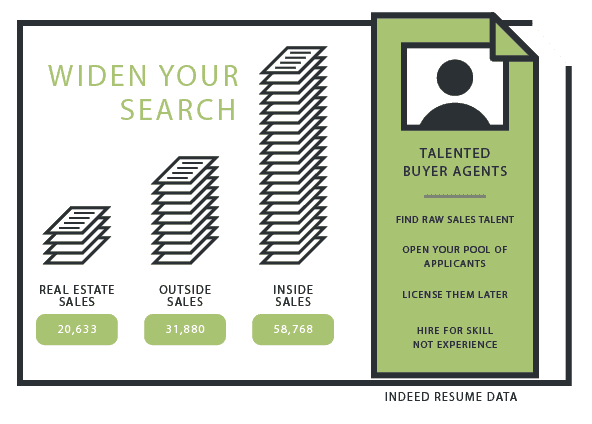 Think about the last time you bought/leased a car. Did you have a good experience with the salesperson? How about when you purchased insurance or even dined at an elegant restaurant?
We've heard numerous times from our customers that people in sales and high-end service roles have what it takes to become top real estate sales talent.
They already know how to sell. All you need to teach them is how to position this new, higher-priced item they're representing. The beautiful thing is, they can get their license while they're learning.
Same goes for inside sales professionals. You know what inside salespeople are already good at: qualifying leads by asking questions, listening and building relationships. Aren't those also skills great buyers agents possess?
When you widen your search, it significantly speeds up the time it takes to hire agents.
Training people unfamiliar with real estate is easy using this simple 90 day plan:
0-30 days – You Watch Me. During this stage, they are shadowing your day-to-day activity.
30-60 days – I Watch You. Now it's their turn to practice what they've learned while you monitor them.
60-90 days – You Go Do. After watching and practicing, they're ready to perform with minimal supervision.
Source 4: Set Up A Referral Program For Your Team
If you've got a crazy-huge vision for your team and are invested in their success, they'll be excited to share it with others. It's common knowledge in recruiting circles that referred talent makes the best employees. Provide your team with an easy way to refer their friends and colleagues to your company.
Here are a couple of ideas to help you firm up an employee referral program:
Create a formal process using Recruiting Bridge which helps you craft a recruiting landing page for each of your current team members.
Add "Referring recruits" as a topic for discussion during your regular sales meetings.
Compensate your team when they make referrals. Nothing like a little incentive to keep things top of mind. 💰 According to TalentLyft, about 70% of companies pay cash incentives of anywhere from 1K-5K for referrals while 15% offer extra paid time off or vacation days.
Be sure everyone on your team knows who you're looking to hire. Give them your agent job description, and talk about the qualities and characteristics important for the role.
When they know the type of person you're looking for, it's easier for them to make the right referrals. They can look into their networks for the best candidates and help you maintain your carefully crafted brand and company culture.
Poll your team to see what would motivate them more: extra time off or a cash incentive. 🤑
Source 5: Become A Teacher And Talent Scout At A Local College Or Brokerage
If part of your sales team mix includes newly licensed agents and you're a giver by nature, put yourself in a place of authority by becoming a teacher. Hungry to learn, new talent can be found, and the beautiful thing is, they'll pay for you to train them.
A couple of reminders if you decide to teach:
Take an Instructor Development Workshop. Do a google search on IDWs in your area and take the time to read some reviews of the course and instructor. You want to plan a compelling training session, so be sure you're learning from an individual you may want to emulate.
Make your classes interactive. The old 'teacher knows everything' model is just that—old. Today's learners want guidance and practice; they don't want a teacher to show up and throw up. Make sure your agenda reflects the interactive nature of your teaching style.
Charge for your classes. When starting out you may think that offering free courses is the best way to get butts in seats, but if you want to communicate that your knowledge is valuable, you have to show that it has value.
Get help marketing your classes. Visit the registrar at your community college. Make friends with your local Association of Realtors. Make some calls to other real estate brokerages in town. Buy a list of all of the brokers in your area and start an email drip campaign. Employ marketing partners to get the word out about your class.
If you're near quality schools or brokerages that offer real estate licensing programs or CE classes and you love to share, flex your teaching muscles. These are great places to build relationships.
Keep your recruiting hat firmly off while you're in the classroom. If your sole reason for teaching is building up your recruiting funnel, your students will smell it on you. If, however, you have a servant's heart and truly want to share your knowledge and skills, get licensed to teach beginners and CE students.
Source 6: Proactively Ask For Referrals From Your Preferred Vendors And COI
Get more specific when you ask your real estate colleagues and preferred vendors for referrals to their favorite agents. Asking, 'Do you know of anyone good who wants to join our team?' might yield a referral or two.
Real Estate Admin expert, Monica Reynolds, shared a more direct process that lands more referrals, more often.
It's all in how you ask.
Have a conversation with your preferred vendors and affiliates such as title folks, home warranty professionals, appraisers, etc. Or as Monica puts it, anyone who makes a buck off of you. 😉 Bring up the fact that your team is expanding. Then tell them:
"I need 2 names of people you think are already great in real estate or would like to get into the real estate industry."
And the part that really gets action?
"I'm going to need those 2 names by Monday."
Leave them with a copy of your job description for the role and any specifics you want to share about your company culture.
Can you see how being more direct when asking for referrals from people who want to stay on your good side can work?
Remember to ask your client base as well. Thank them for their business, let them know your team is expanding and ask if they have anyone in their network they can refer to you. When they make a referral, reward them with a thank you gift.
Experiment with these 6 recruiting methods and figure out which sources (or combination of sources) make sense with your team and in your market. Use a multi-faceted recruitment process to get your incoming flow of agents meeting or exceeding your flow of customers!